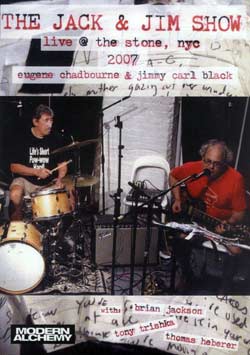 Remember back before television, when the family used to sit around of an evening and play and sing their favourite songs? I don't either, but i've heard it's what folks used to do. This live video document has some of the relaxed feel of an informal parlor gathering, your dad and a few uncles sitting around the living room jovially going through their repertoire of songs.
And what a repertoire! Black and Chadbourne run the gamut of American song, from Hoagy Carmichael and Ernest Tubb to Jimi Hendrix and Capt. Beefheart, with Roger Miller and Doug Sahm in between. They twist the songs into new shapes, laughing and joking with each other as they do. This duo's been together for a long time, and it shows in their comfort with the material, and with each other: Chadbourne sitting down with his huge book of lyrics on a music stand, pages spilling onto the stage...Black's down-home drawl and friendly demeanor...invited guests jamming on a few tunes...
On first perusal, you may be prone to write these performances off as sloppy or half-formed, but it's these mens' familiarity with their tools and material that allows them to re-invent from the ground up, the memory of a tune hanging around in the background as a scrunched and then unfolded template. They could do anything they wanted to with these songs, and their sense of humour presides. Beefheart's "Clear Spot" and "The Dust Blows Forward..." are both cast as weird hillbilly tunes, the comic relief in a Cormac Mcarthy novel. "Cortez The Killer" opens up for some wonderfully out guitar solos, and Jimmy Carl sings "Willie The Pimp" to banjo and piano accompaniment (Caroliner anyone?). The double handful of originals fit right in, but without the memory of specific past performances. Just a haze of familiarity- a drinking song here ("BYOB Club"), a wry political comment there ("Canons Of Christianity"), with the odd sentimental musing thrown in for good measure ("the Old Piano"). I admire Chadbourne because not only has he developed his own unique blend of country, folk and improvisation, but he's managed to make a living at it for a long time. And neither of those is an easy thing to do.
Comments and Feedback: