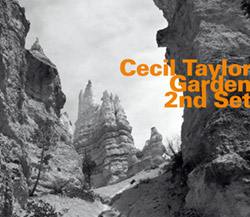 "Introduction to Z" takes its time getting there, but when the theme is finally stated it's immediately taken apart and transfigured in as many ways as imaginable, turning in on itself, speeding up, colliding with other disparate melodies and basically exploring every possible permutation of notes. It's typically visceral on Taylor's part. Physicality of this sort isn't usually expressed on keyboards, but his approach has always been about the percussive as much as harmonic aspects of composition.
"Garden II" starts by restating the previous pieces' elements and gradually moving into more inquisitive territory, playing with broken arpeggios that seem to answer their own questions. Tangled note clusters unfurl at random as others become more tightly wound, increasing in velocity and moving in and out of different dynamics.
"Driver Says" is a much shorter tune, punctuated by a lovely melodic theme. It quickly turns more aggressive at the end but never gets all the way unhinged. "Pemmican" is more somber in tone with lush chords and trembling note clusters fluttering beneath the stated melody. It rolls along lazily, showing a bit of Taylor's romantic Ellington leanings. Eventually the pot begins to boil over as notes crash into each other and the melody starts rushing past itself. This song is a nice contrast to the others preceding it. "Points" is the last and shortest track of the lot, but what it lacks in length it makes up for in content. It quotes some melodic and rhythmic forms from the opening track and expands on them quickly before disappearing into the ether. In short this is another fantastic set of solo Cecil Taylor and shouldn't be missed.
Comments and Feedback: