Squidco Performance Space
928 North 4th St
Wilmington, NC 28401
910-399-4847
Retail store hours: Monday-Friday, 12:00 - 6:00 PM
or by appointment
---
Wednsday, December 16th, 2015 @ 8:00 PM:
Squidco's Visiting Artists Series
Join us on Wednesday, December 16 for the return of Japanese improvising percussionist Tatsuya Nakatani, performing in a duo with French saxophonist Michel Doneda. Nakatani has played at Squidco several times now, and is one of the most exciting performers we've hosted. His drum work is unparalleled in technical ability and sonic intensity, and his creative use of percussion is simply awesome. Michel Doneda is an internationally respected soprano saxophone player with over sixty recordings as a leader. He has developed one of the most extensive musical vocabularies in free improvisation. His playing can be at turns lyrical, playful, or raucous, and can switch from the liveliness of street melodies to circular breathing, microscopic sounds, or shrieking outbursts.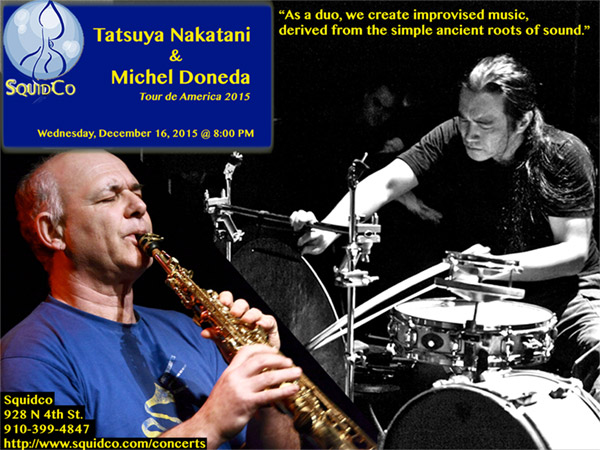 "As a duo, we create improvised music, derived from the simple ancient roots of sound." -Tatsuya Nakatani
Tatsuya Nakatani is a native of Osaka-Japan, who now resides in Easton PA. He is an improvising percussionist who tours constantly, and has played all over the world. Michel Doneda is a soprano saxophonist from Toulouse France. He is one of the most prominent and active improvisational musicians in Europe.
The duo first met and played together in 2002 in Toulouse France, two years later Nakatani and Doneda performed and recorded with alto saxophonist Jack Wright, in New York City. They formed the trio "From Between" and over the next three years they toured the US, France and Japan releasing two highly acclaimed CDs and a DVD.
As a duo, Michel Doneda and Tatsuya Nakatani have performed internationally throughout the USA, Canada, Japan, France, Luxembourg, Ukraine, Poland, Norway, Scotland and Belgium. They have played at the Musée d'Art Moderne et Contemporain in Strausburg, France, the University of Metz, the University of Lille, the Jazz Bez festival in Ukraine and Poland, at the NattJazz festival in Bergen, Norway, the Festival des musiques insolentes in Lorgues, France, the Musique action festival in Vandoeuvre les Nancy, France, the Festival international de musique actuelle de Victoriaville, Canada and the Glasgow improvised music festival in Scotland.
The duo have collaborated with such internationally renowned artists as Barre Phillips(bass), Frederic Blondy (piano), Oguri (dance), Kaoru Watanabe (flute), Serge Pey (poetry), Yurity Yeremchuk (sax), Leonel Kaplan (trumpet) and Ty Thanh Tien (dance).
Click here to join the Facebook Event.
$10 at the door or during the show, feel free to BYOB.
Advance Sale Tickets available @ Squidco: $10 General Admission
---
Squidco • 928 North 4th St • Wilmington, NC 28401
910-399-4847



Wilmington area listeners, follow us on Facebook:
facebook.com/SquidcoWilmington