Over the last year, we've asked musicians Ron Anderson, Anthony Coleman and Gary Lucas to come clean about their private predilections, to reveal for our readers the records they might try to hide when company comes over. For The Squid's Ear's First Or So Anniversary issue, publisher Phil Zampino and editor Kurt Gottschalk belly up to the bar, revealing some of the deep embarrassment of questionable riches in their own collections.
Phil Zampino's Bottom Shelf  
I take a lot of grief from certain friends regarding my love of progressive chestnuts like Van Der Graaf Generator, Gong, Jethro Tull and (early) Genesis.  Certain time-bound predilections simply refuse to fade. But last summer I revisited something from the beginning of my listening days: Steppenwolf, in particular, the Live album.  Anyone who gives me grief for this one needs to be ready for an earful.
I re-approached Steppenwolf Live with great trepidation.  This album sat alongside Iron Butterfly's In a Gadda Da Vida in my early listening habits.  Persistent memory dictates that it can't be uncoupled from visions of a spastic me, flailing around the living room and enthusing about how "cool" this music was.  At the age of 8 I really didn't understand anything clearly about the political and world crises of the day.  I knew there was unrest and criticism.  Steppenwolf became an unfocused focal point of that turbulent era for me.  I know as a child that I thought the song "Don't Step on the Grass, Sam" actually had to do with "Keep Off the Grass" signs, and how oppressive our government was for forcing us onto the path.  I didn't get any of the cocaine or sex references.  Hey, I was a kid!
The gatefold copy with the big Wolf's head on the cover that impressed me so belonged to my older brother.  I think in the end I listened to it as much as he did, and maybe a bit more.  I don't still listen to his Kiss albums.  But when Steppenwolf crept back into my head I at last bought my own copy on cd, of course, a tiny booklet with a picture that couldn't rival the power of that 12" wolf's head threatening you from the gatefold.  And I gave it a spin.
In reflection perhaps I just filed the memory of this album away until I needed it.  Maybe I knew that I shouldn't be burnt out on it when the message applied again.  Steppenwolf's songs express outrage and criticism of government practices that apply to our current situation.  Along with, of course, a lot of '60s 'turn on tune in, smokin' the grass' sentiment.  It talks about the war on drugs (Don't Step on the Grass, Sam, criticizes the using community at the same time (The Pusher) and, boldest of all, it takes on the government (Monster) with commentary that's clear and direct and every bit as vital today as it was then.  Between songs John Kay talk about working together with the government to preserve what's good in our great land.  It's uplifting, patriotic and challenging to the status quo all at the same time, while extolling the virtues of sex and pills and having a good old Magic Carpet Ride.  And it played on FM before Clear Channel owned the air.
Sadly Steppenwolf made a deliberate decision to shift away from their characteristic culturally charged spiel late in their career, a decision that resulted in some decent records that don't distinguish themselves from other rock blands of the time.  To these ears the music already sounds a bit out of step with the ever-changing rock scene they once carried such a strong voice in. Steppenwolf has remained a surprisingly tenacious band, and in their current incarnation they have a stiff schedule of biker shows, city fests and casino's planned for 2004.  I don't know if they still play Monster, but their message has never had a more appropriate time.  That it's not in heavy rotation on every classic rock radio station now is a sad statement of the time.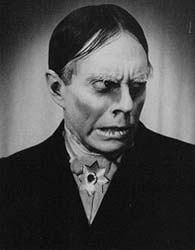 Zacherley, the "Cool Ghoul," was a '50s television movie prompter, a demonic figure who introduced monster movies to a New York area punctuated with ghastly sketches and creative comedic "break-ins" during the movies. John Zacherle was born in Pennsylvania, 1918 (the character he went on to create is spelled as "Zacherley"). He went on to make a splash with his song "Dinner with Drac" on the Parkway label, which ran to #6 on Billboard and garnered appearances on American Bandstand.  He put out a book, 3 lps, several singles, a few videos, even Transylvannian Passports. The personae of Zacherley lays itself out in an insinuated Charles Addams world of vampires, mummies, werewolves, monster monkeys, monster mothers-in-law and body snatchers.  He snorted with a characteristic condescendence while asking Igor for this or that assistance in his macabre machinations.  Zacherle was sardonic and, er, bitingly witty.  It was all in good fun, and to this day Zacherle plays to a small cult following.
I never watched Zacherley on TV.  My father did.  My father reveled in scary stories and in spooking his children.  He still tells with guilty amusement how he made my older brother, then a toddler, fly out of the bedroom as he tricked him into thinking there was a ghost in the room. Nightly he threatened us that while we slept the "liver snatcher" was going to sneak in and remove our livers through our noses using a pair of needle-nose pliers.
One day my father brought home a peculiar orange and black record on the Parkway label: Zacherley's Scary Tales: a collection of "scary" songs and stories, narratives in pop genres - surf, jazzy pop, doo-wop, pop rock, done with capable studio musicians, good arrangements and decent production.  All the songs are sung by the ghastly Zacherley, who's Transylvanian laugh punctuated the music in a way that paid homage to and laughed at the idea of B horror.  I had no idea who he was, but I took to it immediately.  
For the next few years my family quoted the songs from that record, and many an afternoon my brother and I "surfed" our beds to "Surf Board 109" as the mummy took yet another a dive: "first bath he's had since 10 BC."  It was a good pop record, right up there with The Archies, and that's high praise coming from an 8-year-old boy (remembering how he cut out an Archies 7" single from the back of a Super Sugar Crisp cereal box...)  To top it off, the first track on the second side had three parallel grooves, so depending upon where you dropped the needle you got different lyrics.  How cool is that?...
Last year it struck me to find out what other releases were available, and to try to find a less destructed copy of the lp than my brother and I had left my father. I searched eBay - the melting pot of all unusual and cul-de-sac culture - and found that the "Spook Along with Zacherly" lp had been rereleased on cd; relieving, as I'd seen the original lp at a record collector's show priced at more than $200!  I "bought-it-now," and successfully bid on the "Monster Mash" LP as well.  Sadly "Scary Tales itself has been less forthcoming.  Of the 3 releases I now have access to I still mostly listen to a cassette tape of our very crackly copy of "Scary Tales."  I'm sure that's pushed on by my inner 8-year-old's devilish grin, part of the frightening amount of happiness that tape brings me.
---
Kurt Gottschalk's Bottom Shelf  
The Beatles ruined pop. Before the Fab Four took over the western world, there was a suitable division of labor. You had singers, songwriters and instrumentalists. Nobody was expected to do it all. But in the epoch after John, Paul, George and Ringo, rock bands were expected to do it all and look good too.
In the course of seven short years, The Beatles led a wave that made teenybopper music into art and created an undying catalogue that would come to represent saccharine sentiments and overblown pop craft. Bad jazz singers and boring cover bands have made gallons of schlock from their songbook.
There have been good covers, of course, and tributes worth owning. Aki Takahashi has recorded great solo piano arrangements by the likes of John Cage, Frederic Rzewski, Carl Stone and Alvin Curran. Laibach bent Let it Be into an industrial dirge. Big City Orkestraw looped and mutated the boys on beatlerape. The Knitting Factory collected covers by Lydia Lunch, Eugene Chadbourne, Samm Bennett, King Missle and others on Downtown does The Beatles. Mike Westbrook's Off Abbey Road (Enja, 1990), with Phil Minton singing on half the tracks, has it's moments, and Sarah Vaughan's Songs of The Beatles is notable, if only for the chance to hear her warble "Come Together."
My collection, unfortunately, isn't limited to interpretations of merit. I have a regrettable tendency to horde the worst Beatles tributes I can find, which are generally available in the $2 bin.
Liverpool 1962 is an odd name for a 1990s mariachi record, but it leaves little doubt about the group's impetus. The 13-piece Mariachi Mexico de Pepa Villa make some frightfully lush detritus of the usual picks for sappy rendition ("Eleanor Rigby," "Yesterday," "Michelle," "The Long and Winding Road," - yup, McCartney comps all), and stretch out to include a couple from the solo years (Lennon's "Woman" and McCartney's "No More Lonely Nights"). It's remarkable how trumpets and strings can sound like a cheap synthesizer in the right hands. The title track is an original composition that evokes the working class English like Bugs Bunny playing Napoleon.
When I was a teenager, a distant and senile relative invited me over to listen to his record of The Canadian Brass playing The Beatles. Polite Midwestern punk that I was, I said I'd like to and promptly fled. In later years, I regretted passing up the surreal opportunity, so I was excited when I later found their 1998 All You Need is Love. It's livelier than the mariachi tribute, which makes it even harder to listen to. The liner notes point out that "no one knows exactly when pop music crosses from its world into the classical domain," suggesting that somehow the quintet have bridged the gap. Maybe I should have stuck with punk.
The hallmark for insipid interpretation is of course Muzak, so I was stoked to find an actual Muzak cd in the cut-out bin at Tower Records. Surprisingly, it seems closer to the spirit of The Beatles than the preceding titles, if only for the presence of electric guitars. Instrumentally Yours was released in 1999, around the time the corporation was trying to update its image and began switching from elevator music to feeds of actual songs. The musician credits shed little light on the culprits of this watered-down apple martini (at least to me), but they do point out that proceeds from the disc go to the Heart & Soul Foundation. Muzak probably should have been a grant recipient rather than a benefactor.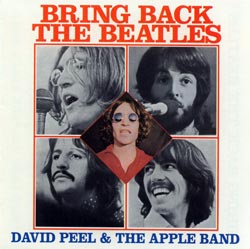 Not in need of a heart transplant is David Peel, who had a counterculture hit with Have a Marijuana in 1968 and worked hard as hell to weave gold from the short straw of having met, and apparently been complimented by, John Lennon. Bring Back the Beatles, from 1977, is a stoner declaration of, uh, what was I talking about? Tracks include covers of "With a Little Help from my Friends" and "Imagine," adapted to the three chords Peel knew, and no end up tracks written for the subjects of his adoration ("The Beatles Pledge of Allegiance," "The Wonderful World of Abbey Road," "Apple Beatle Foursome," "The Ballad of James Paul McCartney," "Keep John Lennon in America" and, of course "B-E-A-T-L-E-S"). This is your brain. This is your brain in a skillet.
continued...