By Skip Heller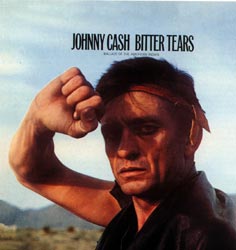 In 1964, Johnny Cash recorded the Bitter Tears album, which made known his feelings about Native Americans. Its centerpiece was his hit version of Peter LaFarge's "Ballad Of Ira Hayes," a brilliant, accusatory song about the Pima Indian who was one of the five men to raise the flag at Iwo Jima, came home to less than fanfare, and died drunk in 1955 at the age of 33.
The Pima tribe inhabited a piece of Arizona not far outside Tuscon. They were a peaceful tribe who farmed well enough to sustain their food needs, until their water rights were taken from them and everything they worked for was either killed off by dry heat or was taken from them outright. But Ira Hayes felt a duty to his country, enlisted, went to fight for the good old USA, and became a decorated American hero. You can guess how glorious his life was upon returning. One night Ira Hayes fell drunk into an irrigation ditch and froze to death in cold water.
I saw that land had a gig in Tuscon in May 2002, driving southeast from Los Angeles on the way to a gig in Tuscon.
Los Angeles in spring is paradise. The sky is visible and wide, the mountains pose for postcards, freeways open and you realize how vast our country is. It is beautiful as long as you don't go too far east. That's when the oasis turns back into the desert from which it was carved. LA to Tuscon is about eight hours of driving, and the first four or five are gorgeous.
Arizona comes on the heels of a fairly ugly piece of southeastern California, and has nothing to recommend it upon entry. As you drive in a little more, the Indian reservation stores - with tax-free cigarettes - pop up. Past Phoenix towards Tuscon, you see a rest stop with wall displays that tell the story of Ira Hayes and the Pima tribe. Sort of.
The tale they tell is some "see Dick run" shit and says nothing about the kind of man Ira Hayes was - to forgive what had been done to his tribe and enlist in the Marines. And they certainly said nothing of his death and who helped that tragic process along. The Pima Indians, in recent years, are noted for diabetes (studies have shown that one out of two adults suffers from Type II) and morbid obesity. It seems that, when their right to water was stolen and they could no longer grown their own crops, they had to adopt a "western" diet, which did egregious things to their bodies.
I have a thing about Cash. Maybe it's because the only actual day he spent in jail was the very day I was born, October 4, 1965. Cash was popped at the El Paso border checkpoint. He was trying to smuggle several thousand amphetamine capsules across the border from Mexico.
If you've ever brought contraband through a Mexican border crossing, you know the drill. I got pulled out of the car once, holding a hundred 600 mg Ibuprofen capsules, sold over the counter in the local farmacia but illegal without a presciption in the USA. Fortunately, the border cops didn't look far inside a gym bag of clean clothes (although they were very thorough with the dirty clothes, the guitar case, and the glove compartment).
Mexico was wide open in '65, so Johnny - then no stranger to intense amphetamine procurement - probably thought nothing of it until they slapped the cuffs on.
June Carter - who he married and who died May 15th of post-operatory complications - got him cleaned up, helped him find religion, and helped him realize certain dreams that were not in reach for most country singers in the sixties. June was born into the Carter Family - a major American Music dynasty if there ever was one - but had enough brains and ability to keep herself from being defined by her legendary mother, Maybelle Carter. She had a viable career in country music, then chucked it and went to New York, where she joined the Actor's Studio (director Elia Kazan - who died just 16 days after Cash - sponsored her enrollment), and finally returned to the Carter Family. They became part of Johnny Cash's touring show in 1961; by '63 June was in love enough with Cash - then totally out of control on pills - to write a song, "Ring Of Fire" about it.
Johnny Cash burst onto the scene in 1955 with "Cry Cry Cry." He came not from a Nashville major but that most venerable of indie labels, Sun, the Memphis label that had at about the same time sold Elvis' contract to RCA for an unprecedented $30,000. RCA would soon enough begin trying to make sister Anita Carter into a rock'n'roll star as part of a trio called Nita, Rita, and Lita. June was at the time married to country star Carl Smith, whose "You Are The One" is a classic of the period. They would have a daughter, Carlene, who later married British pop singer Nick Lowe.
If you can find photos of country singers of the period, you notice that 1950s Nashville had nobody like Johnny Cash. Look at George Morgan, Webb Pierce, Porter Wagoner or the great Lefty Frizzell. They're colorful, extroverted. Cash was hard-looking, introverted, and dressed in black.
Similarly, listen to the typical male country singers of the period. The biggest was Eddy Arnold, a human Hallmark card. Singers like him and Marty Robbins forecasted the "countrypolitan" movement to come and paved the middle of the road for Nashville easy listening artists like Jim Reeves, Patsy Cline, and Floyd Cramer.
Honky-tonk, on the other hand, was nowhere near so repulsive. This was a harder Southern urban sound, with walking electric bass, and a cracking drumbeat that cut through the din in bars and dancehalls. All the guitars were electric, too. Webb Pierce's fantastic "Honky Tonk Song" was not hill music, although his voice stayed in close touch with the high lonesome sound. "Honky Tonk Song" was a 12-bar blues streamlined in Nashville, and it's not wussy music.
To my ear, Cash was most influenced by Ernest Tubb. Both made unpolished, minimalist records. Tubb was from Texas, and sang in a low, craggy voice. His records of the '40s are very proto-Cash, with sparse electric guitar up front. Cash covered Tubb's "Thanks A Lot" while he was still on Sun, and you can hear how close to Tubb Cash really was.
Cash was not immediately invited to join the Grand Ole Opry, but Louisiana Hayride, which was more at home than the Opry with mavericks, like Elvis Presley, Jimmy Martin, and a few others who were a little dangerous.
The more famous Cash got, the more rebellious he seemed. He left Sun because he wanted a higher royalty and to make thematic LPs. The subject of royalties is always dangerous, and LPs were then a novelty for country singers. In 1957, Cash became the first artist to have an LP on Sun. The following year, Cash had a new album out - on Columbia.
As his success elevated, Cash became a speed freak. This was common in country music back then. Lots of driving, being on the road 250+ days a year, often having to drive back from wherever you were to be back in Nashville to do the Opry or Shreveport, LA to do Hayride. Early morning broadcasts after playing 'til midnight or later 300 miles away from where you did your morning broadcast were common. It was a rough life, and the pay wasn't great. But it was the job, and benzedrine helped many get it done.
In those days, tour buses were a rarity. Bands traveled by car. If they were lucky, they had a station wagon and a little trailer. You'd strap the upright bass to the roof. Cash and his band made about $150 per week each on the 1961 package tour. June Carter fell in love with Johnny Cash under these conditions, which speaks volumes about his appeal and her intestinal fortitude. It sure wasn't about the money.
Very few artists can achieve some of their highest achievements in their art while being up to their eyeballs in chemicals. But Cash was on an artistic roll through the 1960s, before, during, and after the period of his El Paso arrest, with groundbreaking thematic LPs. He also appeared at the Newport Folk Festival, where he finally met Bob Dylan, whose "It Ain't Me Babe" Cash had been performing for some time.
In 1968, he recorded the Live In Folsom Prison album, followed shortly after by Live At San Quentin, which contained "A Boy Named Sue", his biggest hit of the decade. He was not new to playing prisons - Merle Haggard was a member of the captive audience when Cash performed at Quentin in 1959, and said afterwards that the sheer force of Cash's performance turned his life around. By 1968, largely because of June carter, Cash had turned his own life around, trading drugs for fundamentalist Christianity. Whatever works.
Around that time, Cash got his own network TV show, pretty much unheard of for country artists at that time. Unlike other music shows of the time, his show was often a showcase for cutting edge music of the time. His guests included Merle Haggard, Joni Mitchell, Judy Collins and even Bob Dylan, who at that point was largely allergic to TV cameras. But Cash was held in such high artistic regard that someone like a Dylan or a Joni would do TV if he asked.
Because of his celebrity at that point, June Carter's contributions are usually reduced to her appearances on records like "Jackson" and "If I Were Carpenter". But it was she who first told Johnny about a janitor at the Columbia recording studio who was writing songs. His name was Kristoffer Kristofferson.
People don't recognize it now, but Kristofferson was a threat to Nashville's status quo. Cash was tough enough for the local establishment to deal with, but he came from nothing, and Nashville always likes a Cinderella story.
Through the 1950s, Nashville's GNP was not music but insurance. It's nickname (self-imposed, I'm sure) was "the Athens of the South." Nashville has Vanderbilt University and a full-scale replica of the Parthenon.
Kris Kristofferson was a former Air Force pilot, Golden Gloves boxer, and a Rhodes Scholar. And he chucked it all to go starve in Nashville. I'm sure the attitude towards Kristofferson in Nashville was that local society would be better off with less songwriters and more Rhodes Scholars.
Kristofferson was a longhair from Texas, and his songs were a little raw by the standards of the time, which were getting a too loose for the locals anyway. Texans had always been a problem, ever since Bob Wills brought drums to the Opry stage and Floyd Tillman wrote unapologetically about cheating. Kristofferson lines like "the beer I had for breakfast wasn't bad so I had one more for desert" did not fit the image makeover Nashville was going for, which was typified by the string-drenched records of former honky tonk great Ray Price. But Cash was all-powerful. And June Carter was the power behind him.
"Sunday Morning Coming Down" was a remarkable song, and Cash turned in a performance that came from hard-won field research, and it was a hit. Cash started doing tunes like "Cocaine Blues."
Cash was definitely the only '50s country performer who could fit in with the 60's songwriters. June Carter, who was a very intelligent woman but who was also duty bound to country music tradition because of her family, was likely the key to his ability to expand so gracefully while never forgetting who Johnny Cash was.
The '70s were scattershot for Cash. The hits didn't dry up completely, but he was no longer a constant on the country charts. He became something of an actor, and made The Gospel Road, a documentary about him in the Holy Land. There was a Christian comic book chronicling his fight with pills. He played a great many benefits for Native Americans, especially in Arizona.
Johnny Cash and June Carter had come into that Louis Armstrong place where they were genre symbols about as much as they were musicians who still occasionally had hits. By the 80s, Cash had been dropped by Columbia, who refused to grant him the respect they gave Miles Davis. So Cash went to Mercury, and, for the first time, put out a few shitty records. He also teamed with Willie Nelson, Waylon Jennings, and Kristofferson for a group called The Highwaymen, who had a few hits but nothing all that memorable.
By then, June Carter got back into acting, and wrote a couple of memoirs. She had a clear eye about her life and the people in it. She took a role in a fine Robert Duvall flick, The Apostle, and turned in a great performance.
Cash was like the great unmined resource come 1994, and Rick Rubin signed him to American, recording what has become known as The American Trilogy, which started with a solo acoustic album and went onto records of Cash covering a multitude of songwriters, some of whom weren't really right for him. But Rubin's involvement created a ton of buzz, and Cash was again hot shit, written about, analyzed and dealt with as a viable music force.
From 1995 on, Cash was hip again. Kind of pissed me off that a comeback ploy was needed to restore Cash to credibility. He'd always been a killing live act - but that's what publicists and buzz are for. Around this time, it was announced that Cash had a variant form of Parkinson's disease.
In 1999, June put out her first real solo album, Press On, and it's beautiful. Her sisters had passed on while she was making the record, which probably accounts for the way the whole record feels. It's a record that could only have come from Mother Maybelle Cater's daughter, with the autoharp up front, and a voice that had humor, wisdom, and spirituality. Like Mother Maybelle. Except that Mother Maybelle would not have commented on Tarantino movies as June did.
For the first time in her career, June Carter got some press that looked at her less as a Cash than as a Carter.
Cash's tenure at American finally resulted in The Man Comes Around, which spawned the lauded video for "Hurt."
June Carter released a second solo album, Wildwood Flower. Johnny sang a great deal on it. The title track is an American music staple, and the arrangement of precedent was by Mother Maybelle Carter. June's health was so bad when she was making that beautiful, unadorned record that she would soon join her sisters.
Cut to May 15, 2003. I'm in Seattle to play a club date, and I turn on the radio to get the women's basketball scores. The Seattle Storm had played the Sacremento Monarchs in a pre-season game the night before. The speaker crackled as an announcer said "who is survived by her husband Johnny Cash..."
I felt terrible for Johnny. His disease had been winning, but he wasn't alone in his fight. Now he had lost the person for whom he hung on. His own death was inevitable.
I'm sure I can read something into that Cash went gently into that good night a few hours after 9/11 of all days. Cash was an American hero and he embodied our spirit of tradition and rebellion. Pragmatism prevents me. And so does my need to observe the dignity that his work embodied. Not just his dignity, but the right to dignity for every working man, every woman, any child - for anyone that ever had love for the world.
There were TV tributes, radio tributes, print tributes, Web tributes, tributes onstage. Every kind of tribute to Johnny Cash.
The day he passed, I was walking down Hollywood Boulevard with a friend, and we heard music blaring from speakers. As we got closer, we could hear people shouting along.
A drunken vigil had gathered at Cash's star on the Walk Of Fame, where a bunch of guys in their early 20s had put flowers and religious tracts and candles. And they were drinking beer and shouting along to the recording of "Cocaine Blues."
They knew all the words.