In the months before Peter Kowald's death on September 21, 2002, at 58, the master bassist and dedicated organizer was in the process of relocating to New York City. He had taken an apartment in Harlem and was heavily involved in that year's Vision Festival, even working the concession stand any time he wasn't playing, methodically cutting bread and cheese and selling sandwiches.
Kowald was no stranger to New York, of course. He had helped to organize the Sound Unity Festival, the precursor to the Vision Festival, in 1984, and had a long-standing relationship with fellow bassist William Parker and his wife, dancer Patricia Nicholson, the driving force behind the Vision festival.
Just as he organized musical groups and festivals, Kowald was a builder of communities. And while no one can say what a life cut short might otherwise have brought, one thing seems certain: had he lived just five more years, the free music scene in New York would have been dramatically different.
The following selections show Kowald's interest in New York and in American jazz. They are excerpted from a remarkable 1,200 page manuscript on the history of FMP records and German jazz by Mike Heffley an English Professor at Rutgers University and author of The Music of Anthony Braxton and the forthcoming Northern Sun, Southern Moon: Europe's Reinvention of Jazz, due out in the Spring and based on his dissertation.
Thanks to Mike Heffley for allowing us to reprint sections of his work, and to Harold Meiselman for pointing us to this important document.
"I first met Peter Kowald in New York, when he performed at the Vision Festival in 1996. He was totally receptive to my desire to write a book about European improvisers centralizing him and his FMP colleagues. He invited me into his home in Wuppertal for several days while I interviewed him and his neighbor Peter Brtzmann. His opennessa nd generosity of intellect and soul opened the doors to other musicians in his circles from around the world, both for me and my project and for the music itself. More than anyone, it was he who put a face to what Western music might look like as just one flower, well placed, in the bouquet of the world's musics. I am grateful to have known him..." ?Mike Heffley, November, 2002
---
Kowald's impromptu summary of his history with groups paints him as the perfect personality type for the oft-noted European organizational preference for collective bands, in contrast to the individualistic leader-sideman constructs more typical of American groups (to say nothing of the fit such a personality is with the traditionally supportive role of the bassist in jazz).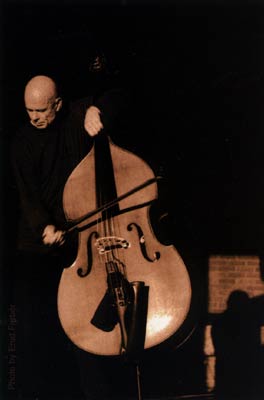 "The trio with Pierre"?Favre?"and Irčne"?Schweizer, from 1968-69?"was more of a collective group," he says, "but I have to say that again I was the youngest in that group. Then I started playing with [Alexander] von Schlippenbach in both Globe Unity projects and in the quartet"?1973-78?"but still I felt more or less like a sideman. The quintet I led"?1970-72?"was an exception to the norm, and I gave it up largely because it was too early to do my own projects; they still lacked conviction.
"The first of my own projects was the trio with Leo Smith and Baby Sommer in '79. It was my choice of people; it was still basically a collective group, and we gave it a collective name. So I guess I'm not so much of a bandleader type anyway, to this day, even though I've had my own groups for a long time."
A glance at Kowald's resumé nonetheless reveals the strength and maturity that can issue from such a personality: collaborations with a vast network of well-known players, poets, painters a n d dancers from America, Asia, Indonesia, New Zealand and Australia, Russia, and Europe; recording projects such as Duos (1992 FMP, a 3-LP/1-CDset of short impromptu duets with thirty different instrumentalists/vocalists from Europe, Japan, and the U.S.); ongoing collaborations with a few of these combinations, including the Siberian singer Sainkho Namtchylak, the Global Village group of improvisers from Asia, America, and Europe; and a pattern of art activism that results in interdisciplinary and cross-cultural formations and organizations devoted to presenting and promoting their products, such as the Sound Unity Festival and Musicians Coop he set up in New York with fellow bassist (often Cecil Taylor's) and friend, William Parker. By comparison, the approach of a strong leader always forming groups and statements around his own personality and concept would conceivably miss a lot of ground Kowald has covered, even broken, for the music.
I ask him about a trip to Africa he had mentioned. It was an exchange of mostly visual artists organized by an African painter who had come to Wuppertal to study with German painter Joseph Beuys. Kowald was the only musician, with four German artists, who lived in a West African village for two-and-a-half months in 1992 to work with five artists there; the following year, the five came to Wuppertal.
"I draw a little bit, so I did some drawings there too, but I played with different people, a kora player and two drummers, and a singer regularly. They tried to teach me all these rhythms, and I couldn't learn them," he laughs, "but I didn't say no. It took awhile for us to get to a point of trust, after which we arrived where I wanted to arrive, which was for me to be able to do my thing and let them do theirs, and organize it only in terms of when to start and stop and roughly what to do-and it worked, in the end; we did a concert or two, and it worked out. I didn't have to leave my material and they di d n' t have to leave theirs...
"I have a group called the Global Village, after the Marshall MacLuhan term. Sainkho is one of the best examples from that group of this co-creative concept. There are different people from Japan too, and from Greece, and from anywhere, in the theory that people grow up in their tradition-but Sainkho is an interesting example because you can see it so obviously in her life. Her grandparents were still nomads. Both of her parents were already teachers, so she grew up with the music there in Mongolia, then she studied and learned some other things?but her early life, in her twenties, she was singing Tuvan folk songs, going on tour with four other women. Then at a point she went to Moscow and met other people and left the folk song. But now when she improvises with us?she's now part of the family, okay? She left the folk song, but she brought all the stuff she learned in it, except for that local form, to our improvised music.
"It's the same with the Japanese shakuhachi player who starts to improvise: he leaves the local folk song but brings the techniques and vocabulary. Or an African drummer, or a bandoneon player from Argentina?they all leave the traditional local forms behind and come into the open situation of free improvisation, basically, and then they make the step into modernity?die Moderne, we say?they make the step into the twentieth century, somehow.
"I mean, I don't mind folk songs, they're fine; let's just say that if you leave the folk song?what Sainkho brought, all the throat singing, the shamanistic breathing, all that is still there, but not in its original context. She plays with Butch Morris on this record we did [When the Sun is Out you Don't See the Stars, FMP 1990]; the first night they played together she did her stuff and Butch did his, and it works. This is wonderful to me, this is really wonderful. That's how I believe it works. It's a method that could be so m et hin g of a model, of how people can come from different cultures, different areas, with different characters, with all of that, and they bring what they bring,and it's okay?just throw it together with the other stuff, and it works. After just a little bit of figuring out how it works together, then it does."
But if New York was to be Kowald's next village, it was a very different one than his Wuppertal home And Kowald had a very different relationship with what might be called American folk music than he did with European and Asian traditional musics.
The relationship with American jazz has been as problematic in its own way as that with Western civilization as a whole, in terms of achieving healthy individuation. Kowald is a good source for this phase from FMP's first hour Emanzipation, because he is the one who articulated it with phrases such as Kaputtspielphase and "father-killing." The "fathers" in America's case included both European- and African-American aspects of the music and culture: the white side was the same Western diatonic tradition the FMP players were leaving behind in their own European culture, plus whatever particular musicians had been emulated for their mastery of that tradition in jazz terms; and the black side was whatever was peculiarly African in the American mix, an identity that could only be learned from, not drawn directly out of German musical/cultural soil.
"I remember in the studio we did a lot of things we'd never done, like playing with knives on the table, tapping," Kowald says. "So in this way I thought we did something of our own; but at the same time I remember thinking myself?I don't know if everyone else thought this?that I wondered if it would fulfill American standards... I think many of us wouldn't say that out loud; there was a point when we said we didn't want to be beholden to America?'father-killing,' as they say in psychology?so at that time it was sti ll no t cl ear....I remember when we played in Donaueschinger in '66 or '67 with Globe Unity: [Archie] Shepp was there, with Beaver Harris, a very good band, two trombones, Roswell Rudd and Grachan Monchur, Jimmy Garrison; they played after us. I think everybody admired Shepp in a way we wouldn't do now. I mean, we were still the young Europeans looking up to them, even if we didn't admit it, we did... I guess it's really normalized now. But those were phases of emancipation; you have to kill your father for awhile, or tell him to leave you alone. In the late '60s, early '70s, step by step we did that."
Of course, that is the same thing black Americans did with white musical culture to come up with jazz itself, and with advances in it all along the way.
"Let me go back for a minute to Machine Gun and that period," I say. "You gave me a good explanation of the GUO experience. For the smaller groups, and the records that came from them that have become classics, was there a feeling in you at the time of the kill-the-American-father thing, of leaving America aside for something better?"
"I remember when we played with Machine Gun, that band played live first," he says. "So we played in Frankfurt in the festival. And I think Jeanne Lee played with Gunter there, and she liked us, I remember that; and Lee Konitz was sitting in the audience, and he came up after the concert, and he liked it. So I wouldn't say we... it was more the feeling that we got respect from established Americans somehow, like Lee Konitz was. We didn't expect him to like Machine Gun, but he did. Maybe he was just being nice, but I think he was really interested in the movement of the late '60s and stuff, so he was open."
"So maybe you had a connection. Once you stepped out on a limb and killed the father, if the father says, yeah, it's okay, then maybe it's..."
"Well, it was two things at once. You still admired the American musici an s, b ut yo u also were saying you didn't need them. Very normal father relationship."
continued...