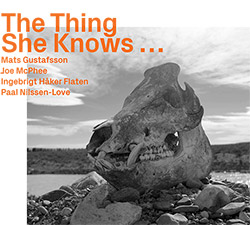 Anyone who has seen The Thing in concert knows the might this trio can muster. With Mats Gustaffsson on tenor and baritone saxophones, Ingerbright Hĺker Flaten on double bass and Paal Nilssen-Love on drums, the group sound can be overwhelming in the best sense, a kind of heavy metal band of improvised music. Joe McPhee added to the mix means a slightly different experience, as he brings searing intensity, too, yes, but tempers the fire somewhat with a more filigree approach.
The music on this ezz-thetics by Hat Hut Records Ltd re-release was recorded in 2001, the result of a stateside meeting between McPhee, Gustaffson and Nilssen-Love, all three of whom would take part in Peter Brötzmann's fabled Chicago Tenet, an impressive band of improvisers who stormed many a venue in the early noughts, bringing creative music to the masses, including this writer, who had the privilege of hearing the band during an extended night residency at the Suoni per il popolo festival in Montreal, a first exposure to the creative music genre that couldn't have been at the hands of more skilled and sensitive real-time composers.
The point of connection between the American McPhee and the Scandinavia improvisers was the music of Albert Ayler and Don Cherry. The tracks here show a little more eclecticism, however, with one Don Cherry track ("The Thing"), a track by James Blood Ulmer ("Baby Talk"), one by legendary improviser Frank Lowe ("For Real"), as well as the traditional "Going Home," an original by McPhee called "Old Eyes" and the set opener "To Bring You My Love," by singer/songwriter P.J. Harvey. An indie pop tune as set opener seems on paper to be an odd choice for the band, but it is absolutely an apt vehicle, with its hefty groove that inspires fiery group interactions and solos flights.
The title of this release is intriguing. The idea behind She Knows.... apparently comes from the band's propensity for watching science fiction horror while on tour, specifically the Alien series, McPhee's liner notes explain. As McPhee writes, the inspiration is the character of Ellen Ripley but more specifically a young girl she adopts named Newt who says "My mommy always said there were no real monsters but there are." McPhee alludes to the current pandemic as proof. There is no doubt that the music laid down by The Thing and their distinguished guest shares some kinship with the mysterious forces of deep understanding expressed in that little girl's statement. This band knows!
Comments and Feedback: