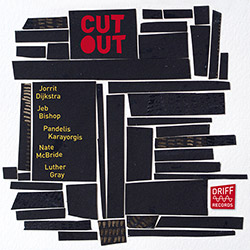 As much as this five-man unit based in Boston is a co-op band that performs music from all of its members, pianist, Pandelis Karayorgis remains its main lynchpin. Four of the ten tunes on this 68-minute side are credited to him, two of these as standalone numbers ("Hyphen" and "Sand Pile"), a third ("Neumes") paired with "Jowls" by drummer Luther Gray and a fourth ("Shadow") combined with pieces by trombonist Jeb Bishop (the squawk and squeeking "Bird Call") and bassist Curt Newton (a jaunty "Chickadee"). Last but not least, Dutch emigree altoist Jorrit Dijkstra chips in with the whimsically titled "Chainsaw Pedicure" and some sterling solos, most notably on Shadow (its spiraling theme bearing more than a passing resemblance to Tristano's "Lennie Bird").
On the face of it, this lineup has all the earmarking of a typical bop outfit, but its musical fare reaches beyond the trappings of that genre. Not that it turns its back on it completely — the saxman's solos are as good as it gets in the swing department — but the band is not shy to take some sharp turns along the way, at times sounding rarified and abstract, elsewhere mixing things up in a more brazen way. The music has a definite edge to it, more rough and tumble than sleek, as is the case of so many current jazz recordings subsumed under the label 'contemporary'. Proof of this is the album's second and title track, which the band has seemingly adopted as its name: the inside panel of the cardboard sleeve reproduces a page from the score, credited to the bassist, its sketch-like nature providing a loose framework of cues rather than a fixed arrangement.
All in all, this album does not indulge itself in lofty experimentation at the expense of the tradition, but weaves both of these together in effective ways.
Comments and Feedback: