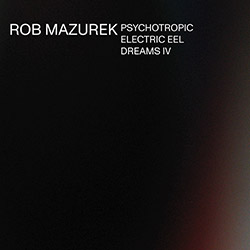 From my review of Rob Mazurek's 2011 album with ensemble Exploding Star Orchestra:
"New Jersey-born / Chicago boy / São Paulo-based Rob Mazurek began as every aspiring trained trumpet and cornet player born after 1960: You learn hard bop. However, unlike many who settle into this athletic genre as a lifestyle, Mazurek kept moving and created his own voice from traditional jazz, improvisation, post-rock, and laptop experimentation — it's no surprise that he works with Tortoise and Stereolab."
I forgot about that side of this musical polymath's bio as I sifted through various articles that paint Mazurek more as a revered guru who, from his current home in the eccentric west Texas tiny town of Marfa, arranges complex parameters for art installations, which is how this recording came about. "...(four)-channel sound composition for the ESS Florasonic installation series at Lincoln Park Conservatory in Chicago..." where the speakers projecting the music hang from the ceiling to cultivate an unusual experience: The listeners are now the ones underwater! Though Psychotropic Electric Eel Dreams IV holds its own as a contained media experience, the fact that the intent of the piece is to fit and foster an environment — one in which listeners can sit and immerse — makes me want to fly out to Chicago and savor the whole thing.
Having read the press where Mazurek discusses his long-standing interest in electric eels — specifically their "voice" (who knew?) — I promised that I would look for an example of this source material after listening to the disc. I made this pact with myself because, based on the sounds here, these creatures are fascinating communicators. Their song — and it clearly is a song — surges with emotionally hot longing and the psychic anesthetic of a Siren, but sadder and more serious. And less chance of dying.
The twenty-two-minute part A resembles a gorgeous, shimmering rainbow, or maybe a mythical creature's slow-motion farewell descent into an ocean cave. A chorale of pitched purrs and their harmonics softly interweave in loose canon. Each voice follows its own meter and voice leading decisions, occasionally bonding with others to pulse and form unconventional chord progressions. The lower frequency whistles and vibrations of large metallic objects sometimes give the illusion of flutes and gongs.
Whereas part A moves in a leisurely manner, Mazurek introduces a seeming outlier of rapidly wobbling effects manipulation during the second half. Though not jagged, or glitchy, or necessarily percussive, this gesture erratically attaches to (musical) lines and nudges them across the stereo field; without much effort, this non-tonal mechanical "beat" upends the otherwise fluidity and organicism, forcing a juxtaposition that gradually earns acceptance. A tension and anticipation of release ensues for another twenty-two minutes until drifting away sans fanfare.
Have you searched "voice of electric eel" on YouTube yet? I finally did, and it's more like blap, fizz, pow, ZZZT, spark, and any resonance (or not) per whatever surface it contacts when shocking. Learning a bit more about Mazurek's process, the eels act as triggers and interpreters for devices choosing pitches for the actual "song". I didn't delve too far — and neither should you — for fear of spoiling the mystery and occult-like presentation of this subtly strange album. But one last thing: An electric eel is actually a fish. An electric fish. Not very sexy.
Comments and Feedback: