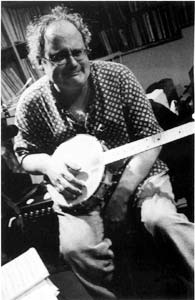 These folks asked me to write a piece about the banjo, kind of a tribute. Then, they asked me to write an obituary for Johnny Paycheck, or PayCheck as he apparently was known in his last few years.
It seems like a lot to do but I thought it might work out combining them, since both are really important to me musically. Then, I found out about the payment policy, always of crucial importance when it comes to freelance writing. Apparently the banjo piece was something that I could be paid for, whereas whatever was written about Paycheck would be an opinion piece or something and I wouldn't get paid for it. So then for sure I was going to combine them, because I did want to write something about Paycheck, but not without getting one for it.
The following article, then, will bounce around between the banjo and Johnny Paycheck without any connecting philosophy other than commerce. It has to be assumed however, that anyone who likes banjo would like Johnny Paycheck, and vice versa.
Not that there is a lot of banjo on Paycheck records. The instrument shows up only once or twice in the course of his recording career, to set a rural mood. Paycheck's music was always more about electric guitar, especially pedal steel. But people who like hardcore country and western love the banjo, something that Nashville record producers don't seem to understand, having basically banished the instrument from the recording studio up until the emergence of commercial artists such as Alison Kraus and the Dixie Chicks.
The banjo goes back much farther with me than Paycheck . I got my first banjo when I was in my sophomore year of high school, living in Colorado. Acquiring this cheap banjo is a stronger memory than any particular music on the banjo, but I do remember the theme music to Bonnie and Clyde by Flatt and Scruggs having quite an effect on me, most likely because it was combined with such violent action onscreen.
I bought the banjo because it was cheap, and because whatever money I had earned to buy instruments was available. At that stage I was not playing electric gear and had both a six string and 12 string acoustic that I was happy with. So why not buy a banjo? I couldn't figure out what to do with the thing, though, and don't remember ever learning any of the tunings for it.
I do remember playing it at length one night, in a style imitating Indian raga, when a high school teacher who liked to "rap" with the students held a special evening at this house where a bunch of teenage freaks hung out. I have written about this house before, the den of Buddy Howard and his little brother Johnny. Mrs. Howard was a single mom, worked for the sheriff, and was rarely home. When she did come home, it was usually in the company of a burly Mexican guy who was rumored to be some kind of narc, or a detective. At one point he almost got our teenage garage band a gig at some battle of the bands in Longmont, but it turned out to be a lot of talk, like most stuff in the music business.
So was this visit from the teacher, whose name I can't remember. He wore a turtleneck-at this point, he was the only male teacher that was doing this except for Mr. Fisher, an art teacher who fucked his students. Actually both of these teachers did this, and why not in the era of "free love"? I sat in the corner and played the banjo while he came over to "rap" about, well, who the hell knows, I was playing banjo.
Banjo music hadn't really gotten to me at that point in time, although lots of other music had; during this period I was knee deep in Beefheart and Zappa, for instance, and country blues. I don't even remember what happened to this banjo, although I could tell you what happened to every other guitar I had back then.
Johnny Paycheck I didn't discover until the mid '70s, the period when I first started getting into playing country and western music combined with avant garde, free improvisation and noise. This also happens to be the exact time when Paycheck was riding high with his biggest hit, "Take This Job and Shove It." Paycheck was on both radio and jukebox condemning the idea of employment wherever one roamed, and as it happened I was making several trips each year through the south, usually down to Mississippi or New Orleans and back. My first country band, The Chadbournes (which later became Shockabilly), would continue driving around this same area, doing covers of many Paycheck songs.
Paycheck played in New York City when I lived there. My wife and I went to see him, I think in 1979, at the Lonestar Caf/, to celebrate her birthday. He had his best band ever during this time period. That was Jim "Big Murph" Murphy on pedal steel guitar, dobro and saxophone; P.T. Gazell on harmonica; Johnnie Barber on drums; Michael McBride on bass and Barry Walsh on piano. This group was called The West Texas Music Company and was kind of the Mahavishnu Orchestra of country music. They would play tunes ridiculously fast and trade off outrageous solos. Unlike fusion jazz, these improvisations were short, the traditional four bar country and western solo exchanges, going by so briefly and with such precision that I presented them to maestro John Zorn as an example of ultra-fast "cartoon" music.
This period of Paycheck's career was rich, period, and not just because of the blockbuster single and a series of other solid hits. He seemed inspired, full of zest, rowdy and outrageous. If a listener sampled his entire '70s output at once it would get tiresome, but there are high points that are among the greatest country music. "Billy Bardo", the story of a narc, is chilling. "In Memory of a Memory," a ballad performance recorded live, shows that Paycheck was every bit the equal of George Jones as a singer. "Colorado Kool Aid," however, was always my favorite from this era of Paycheck. The B-side of "Take This Job and Shove It", this was a slow talking blues that tells the story of a mouthy racist who gets his ear sliced off by a Mexican.
The very first time I assembled a country band and played in Greensboro, North Carolina, at the old Jot 'Em Down club, the group played a cover version of "Colorado Kool Aid." (Later I would move to Greensboro, and I still live there at this writing.) At the set break during this first show, I had an encounter that stopped me from playing "Colorado Kool Aid" for years. A Mexican girl came up and said she couldn't imagine why I would play the song, it was so racist. "Do you think all Mexicans carry knives?" she asked me.
I wanted to say, "No, just the ones I went to school with!" but that wouldn't be true, since neither John nor Alfred Martinez carried knives. Joe Serrano did, though, and so did Louie Martinez, Louie Gonzalez and Jesus Gonzalez, who had such a big switchblade somebody would inevitably sigh "Jesus, Jesus!" when he whipped it out. I told her I liked the song because the racist gets his ear cut off. I would like to cut all their ears off. She told me to go ahead and do it then and stop singing about Mexicans doing it.
It was Jimmy Carl Black, a Cheyenne Indian who was raised in a combination Indian and Mexican family, that got me doing the song again, because he said it was his favorite song of all time. I asked him if he thought it was racist, and he said "Hell no! The white guy gets his fucking ear cut off!"
I don't think Johnny Paycheck would have recorded a racist song. He covered many interesting subjects, for sure, by any standards one judges a songwriter, but nothing really objectionable except for perhaps "Thanks to the Cathouse I'm in the Doghouse With You." However he wasn't so much a songwriter as an ideaman; somebody else inevitably wrote the songs he recorded, or if Paycheck was involved there was somebody else who finished the songs , or else they wouldn't get finished. Sometimes these were sidemen at recording sessions. There was always somebody talented hanging around Paycheck during his prime, sure, because he was a skilled bassist, guitarist and pedal steel player as well as singer. He was an asset to any country band, and came up playing with the groups of artists such as George Jones.
A study of Paycheck's career inevitably leads back to his early period recording for the Little Darlin' and Starday labels, much of which was reissued on a Country Music Hall of Fame CD entitled Mr. Heartache. This and a taste of his greatest hits on Columbia makes up a good collection of Paycheck material. For me, discovering the early stuff after becoming totally familiar with his ongoing career in the '70s was a revelation. These early recordings are classic honky tonk, featuring pedal steel players such as Lloyd Green purposely overmodulating their instruments for a distorted effect. Some of the songs about alcoholism such as "If I'm Gonna Sink, I Might As Well Go Right to the Bottom" and "Down at the Corner at a Bar Named Kelly's" are just too intense to be considered mainstream country; this is the avant garde, which also applies to the famous song "The Cave," about a nuclear holocaust. "I'm a Coward" puts us in the mind of a man about to commit suicide. "The Johnsons of Turkey Ridge" has enough murders for the first two reels of a Friday the 13th film.
Paycheck"s career, then, can be carved into three pieces: (1) Starday/Little Darlin', (2) "Shove It" and (3) after prison. This third period roughly coincides with my picking up the banjo again, this time with a serious passion. In fact it can be said that my improvement on the banjo roughly coincides with Paycheck's music becoming much less interesting. Without a big label behind h im and completely out of style on country radio, he could no longer count on top-flight collaborators. While there are good moments on his later records, the presence of mediocre sidemen and uninspired producers and songwriters is about as obvious as the smell of stale beer is to a tavern's cleaning staff in the morning.
I began playing banjo again in the '80s, at first on a lark because I was going on a driving tour in a car with room to carry some extra stuff. I thought it would be a nice change of pace during the solo set to whip out the banjo, even if for just a couple of songs. I started off without much ambition, picking a couple of three-chord country tunes that would sound good with banjo background. Usually my fingers felt like I had been masturbating a Viking woman all night by the third song.
Meanwhile Paycheck began to have a series of legal problems. He got the IRS mad at him with a song, "Me and the IRS." The fact that the IRS came after him right after this song was on the radio is the most direct retribution concerning a song I have ever heard of, the equivalent of the defense department firing a cruise missle at John Lennon's apartment after he put out "Give Peace a Chance." (Hmm, maybe that's what Mark Chapman was...) But a series of embarrassing public incidents followed Paycheck's hassles with the IRS, including a ruckus on an airplane, a woman accusing Paycheck of having sex with her teenage daughter, and finally the argument in an Ohio bar that led to Paycheck shooting another man.
The shooting happened somewhere near Dayton, in an area of Ohio that is just plain spooky. Check out the film Gummo for a portrait of this part of America. Over the years I have heard various versions of what provoked Paycheck. Apparently it had something to do with the fellow approaching the singer and telling him since he was a good old boy, a hillbilly from this very area of Ohio, he would surely like to samp le a local delicacy, some homemade turtle soup. Paycheck is said to have become so enraged at being offered this hilly-billy food that he shot the guy. That is at least one version of the incident that I have heard.
While Paycheck was rotting away in prison, I was making great improviements on the banjo. A week on the road with Tony Trischka was an amazing experience in which I learned all kinds of things about the instrument. He also got me invited to the Tennessee Banjo Institute, held at Cedars of Lebanon Park outside of Nashville, which has been the so-called ne plus ultra of my banjo lifetime. A few details about this event serve to explain a lot about the banjo. One thing I had realized traveling with Tony, one of the world's banjo experts, is there just aren't that many banjo players, professional or non-professional, especially compared to the guitar. There are probably as many professional guitar players who earn a living playing as there are amateur banjo players or people who don't play but own a banjo, and as far as professional pickers who earn their living playing the banjo, Tony estimates there are only about 100 at a given time.
This means that it is possible to have all the world's great banjo players in one room, whereas as if you did this with guitars you would have to hold the event in some kind of small city. The Tennessee Banjo Institute also invited musicians who play instruments similar to the banjo from countries such as Morocco and Jamaica. I quickly found out the best thing about the event was that one part of the program was a kind of enforced jam session. Players were required to be in the ranger's cabin for certain periods of time, and jam with anyone who showed up. The requirements to show up and jam were just to show up, so once I figured out that I spent practically all my time in the ranger's cabin and wound up playing with every single famous banjo player that was alive at that time. The one exception was Earl Scruggs, who didn't come to the Institute that year because one of his children had committed suicide.
The late John Hartford exploited his connection with Scruggs in order to start a rumor that he would show up for a Hartford event that was part of the Institute program, ensuring a huge crowd. Scruggs didn't show. Hartford also insisted on staying in his Silver Eagle touring bus during the event instead of the accommodations provided, parking the thing in the middle of the otherwise pristine national park and leaving the motor running the entire time! My habit of putting signs on the windshield reading "POLLUTER" started a bit of animosity between Hartford and I, I have to admit. Otherwise I got along great with everybody at the Institute. A banjo that I had a lot of these folks sign is one of my prize possessions. I will never forget the moment when Doug Dillard was about to sign, preparing to write his name behind the strings, way up above the fretboard. Don Stover, a great bluegrass picker, stopped him and said "Don't sign there, Doug! He picks up there! You'll get rubbed out."
The fact that I "picked up there" had certainly been noticed by oldtimers, as was my habit of playing notes on the 5th string. One of the fascinating things about the banjo, and something that makes it easy to learn about, is that the historical developments in playing are cut and dried, often connected with one person alone. There was a time when people simply did not touch the 5th string other than to strike it open and let it ring. Bill Keith and Tony are important people in banjo since the '60s, but I am not sure where the instrument is headed from here. At one point Tony told me he had signed some kind of "armistice agreement" with his former student, Bela Fleck, indicating that Fleck alone was allowed to use a slide on the banjo, while Tony gets to use a bow. While this is beyond stupid, it is amusing to imagine wh at would have happened to other musical styles, for example, if Evan Parker had been the only one allowed to flutter tongue or Buddy Rich got an exclusive on endless tom tom rolls.
Bela, Tony and I, and another guy named Jim Bowie, who played so hard he had to super-glue his bridge to the banjo head, were for sure the avant garde at the Institute. They put us all together onstage at one event so I brought out a banjo I had put together so that it could be easily taken back apart, while it was played, by all four of us at once. I mention this not just to show off that I am clever, but because another interesting thing about banjos is how easily a basic one can be assembled. The aforementioned Stover provided another great moment during this weird performance, walking out in the middle of it but first approaching the stage to tell us in a loud voice: "I ain't walkin' out on y'all, I got an appointment to go deer hunting."
Does being a banjo player bring one cache with the type that goes deer hunting? Yes. One thing I noticed when I became a professional banjo player, i.e. somebody that has to schlep one everywhere I go, is that in North Carolina having a banjo with one is almost like being a minister or something. Hillbilly types that man the scanners at the airport smile, begging me to take it out and play a number. "We had a fiddler do us one last night," I have been told. By the way, were I to whip out the banjo and play either at a security check point or an airplane, I could be subject to arrest, even before the Homeland Security measures came in.
Critics have been kind to my banjo playing; recently, I came across the first example of one actively proposing that I leave the guitar at home. It isn't always so with audiences, although that situation has improved since the early '90s when punkers at German youth centers scowled at the sight of my banjo, and a Dutch clubowner told me "A shame you started the set with the banjo, that I think alienated the crowd." The banjo is a different sort of instrument, to be sure. I think it is mystical, a thought I am not afraid to venture despite possible smirks that might result. My first feelings of this sort were during the period when my daughter Molly was a toddler, and insisted on constantly wandering around the neighborhood touching things. In order to get in some practice time, I would follow her playing the banjo. Nobody in the neighborhood minded at all. The sound of the banjo ringing outside always was incredibly beautiful to me, and I thought, "duh", they developed the thing to play in the mountains. I would rather play a banjo outside then inside, and absolutely stopped playing it with pick-ups or fiddling with the electric versions after a few years of experimentation. I think electric banjo sounds awful! If a condom is like taking a shower in a raincoat, an electric banjo is like wearing a raincoat for a condom.
Players that want to be louder on the banjo have one obvious choice, finger picks. The first time I bought a set, following the tour with Tony of course, the retired bluegrass bassist at the local Music Barn muttered "That's how you get 'em to hear ya in the back row, Gene." No kidding. It should be emphasized, however, that banjo with fingerpicks and naked fingers are completely different sounds, as are the results of all the different styles of playing.
Daydreaming about carrying only one instrument, I know now it would never be the guitar, because it can never replace a banjo. The banjo, on the other hand, cannot really function in the bass end like a guitar can, and has a brittleness that makes certain types of material difficult to play. Perhaps one day a hybrid of the two instruments will be invented.
Bringing us up to the current era, in which Johnny Paycheck has gone on to his reward, never enjoying the kind of revitalized senior career moments that are h ap pening for his contemporaries such as Merle Haggard, Johnny Cash and Willie Nelson. Yes, of course, he was never really in their league, not if one takes into account talents such as consistency, being able to effectively lead a band, prolific songwriting, being fluid in several genres and so forth. One thing that makes music so enjoyable, however, is the artists such as Paycheck, maybe not geniuses but delightfully off the wall in a way the so-called "giants" never are. I felt sorry for Paycheck in his later years, forced to spend set breaks in his trailer because his parole didn't allow him to be anywhere where alcohol was being served unless he was working. In light of this, perhaps the best way to remember him is this comment from a '70s interview, a summation of one of his worst periods as an alcoholic: "I could have puked and opened a liquor store."
---
Visit the Eugene Chadbourne Section at Squidco!