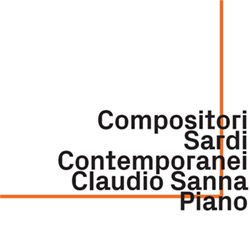 One disadvantage of the seemingly endless flow of classic jazz reissues on the ezz-thetics label is that they can distract attention from the label's other releases which are not reissues but are appearing for the first time, this album being one such. The title translates as "Contemporary Sardinian composers", its two discs featuring compositions by eight composers from the Mediterranean island which has a population of one point six million. The pieces are all played on piano by Sardinia-born composer Claudio Sanna who is one of the eight, with three of his short pieces featured. Sanna's previous link with Hat Hut Records was his highly-praised 2015 hatOLOGY album Ammentos on which he played eight of his own pieces on solo piano, none of which appears here. Of this album's two-hour running time, two composers occupy the lion's share, Luciano Chessa with nine pieces, totalling thirty-seven minutes, and Giuseppe D'Amico with eleven pieces, totalling thirty-eight minutes.
Seven of Chessa's pieces comprise the suite "Quadri da una citta fantasma" (Pictures from a ghost town) which is subtitled "a chamber mystery for piano, blackboard and three turntables". The ghost town in question is Virginia City, Nevada, which once had a silver mining community but went from boom to bust when the prospects dried up. With such subject matter, there is plenty of dramatic music plus musique concrete sounds such as chalk writing on a board or the glitches of crackly vinyl records. For example, the suite's longest piece at seven-and-three-quarter minutes "Il Cimitero" (The Cemetery) opens with a suitably attention-grabbing piano passage but less than two minutes in that has been subsumed by crackle and the sound of Sanna noisily jotting with chalk on a slate; such sounds dominate until the piano returns for the track's final minute. By contrast, the next track, "Le miniere" (The Mines) features solo piano throughout, creating a touchingly wistful ambience.
D'Amico's suite is very different to Chessa's, as it focuses on the piano throughout with ten of the pieces being titled "Lyrical Sketch" one to ten, their durations ranging from just under two minutes to just under five. Beautifully played by Sanna, each of the sketches is richly melodic and well-paced throughout. At times, the only valid comparison to D'Amico's compositions seems to be Erik Satie. Although this album is worth investigating for these pieces alone, that is not to write off the album's remaining composers; Sanna's three pieces, totalling just over six minutes, manage to pack a lot of energetic music into that time and all three stand up well to repeat listening. Just as the Another Timbre label's Canadian Composers Series spotlighted and raised the profile of previously little-known Canadian composers, it seems likely that Compositori Sardi Contemporanei will do the same for Sardinia; although the pieces by some of the eight are brief, it cannot be long until composers such as Chessa, D'Amico, Andrea Granitzia, Paolo Pastorino, Riccardo Collu, Giovanna Dongu and Luca Sirigu are appearing on albums of their own, on ezz-thetics or other labels.
Comments and Feedback: