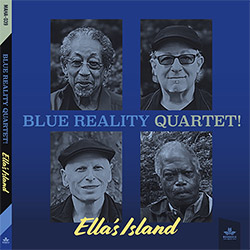 On Ella's Island, New York multi-instrumentalist Michael Marcus has nine tracks on which to demonstrate his fluency on soprano saxophone, A clarinet, alto tarogato, flute, alto flute and the rare 19th Century octavin. But he's no one man band. Blue Reality is a fully-integrated quartet and his associate are comparable exploratory veterans: tenor saxophonist Joe McPhee, vibraphonist Warren Smith and drummer Jay Rosen.
Although the octavin is the rarest instrument heard, its high-pitched nasal reverberations are appropriately complemented by McPhee's gospel-like saxophone responses on the introductory "Ethereal Spirits Divine". Drum pop underline the tune's jazz inflections, while vibraphone bar sparkles with moderated motor speeds further confirm a turn towards the spiritual.
That pattern continues for the rest of the session. Melodic expositions are projected by Marcus' lyrical instruments reflected in duo harmonies encompassing pastoral flute puffs and hollow vibe pops on "This Here Ain't Nothin' But the Blues". Harsher interface come from designated reeds as on the title tune where tarogato snarls contrasted with pressurized vibe variations backed by percussion rolls. The tune not only resembles a Dolphy-Hutcherson meeting, but also ends with a conventional recap of the head. The tarogato also takes the place of a second sax on the extended "Butter Cup", where it matches the tenor saxophone's output, sliding upwards to airier harmonies, as McPhee's descending vibrations become more ragged and rugged. Rosen's paradiddles and ruffs are also as expressive as they are connective.
Combining a touch of the blues with the reality of creating unusual, but compatible instrumentation, this quartet's fine second outing suggests that the reality is that there's scope for more exceptional sounds from the band.
Comments and Feedback: