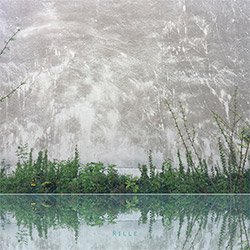 This listener had been familiar with Liz Allbee primarily as a trumpet player with the Splitter Orchestra and Bogan Ghost (the latter a duo with cellist Anthea Caddy); in both situations, live and on recording, her playing stood out as particularly strong and imaginative. Being unaware of her previous solo records, I'm uncertain as to where/if Rille fits in but, to these ears, it came as a very pleasant and rewarding surprise.
The seven tracks here are essentially in song form, though stretched, elaborated upon and toyed with. They tend to have rhythms, though the slow tempi could perhaps be better described as throbs or, as in the opening piece, "To the Moon", tolls. Allbee's voice appears on most songs, sometimes singing, sometimes speaking or whispering, often in between somewhere and recorded at a remove, as if heard over a telephone. That first piece contrasts an electronic flutter with those slow, steady chimes, before isolated, dark and astringent piano chords offer a chilling commentary. The sonic atmosphere occasionally recalls 1980's exoticists like Jon Hassell or Hector Zazou while the interpolation of sung/spoken poetic texts embedded in the haze conjured up by Allbee's breathy trumpet or burbling electronics reminded me, in one sense, of Nicole Blackman's collaboration with The Golden Palominos, 'Dead Inside'. But Rille truly stands apart, the rhythms far more subtle, the instrumental aspects given greater space, Allbee's allusive texts floating to the surface, receding. When the trumpet does show up clearly, as on "Walls & Windows", the effect is startling and coolly refreshing, beautifully played and molded. "Kaspar Hauser" is especially striking, with its mix of ritual-implying percussion and bird sounds and plaintively alienated text ("Hit me again with your poison whispers/For I am a beast of another time") and ending with a list of "animal" attributes.
Rille is an excellent, highly enjoyable and thoughtful release from Allbee, expertly walking that elusive line between song and experimentation.
Comments and Feedback: