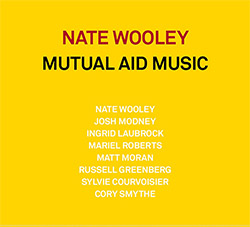 The memory is crystal clear, even after several years. A trill, a smear, various fluctuations, another trill, and then, silence. The solo opening trumpeter, composer and philosopher Nate Wooley's first Battle Pieces album pulls no punches as it plunges past dualistic conventionalities, even those involving the supposed limitations of his own instrument. I conjure this astonishing inaugural moment to introduce Mutual Aid Music partially because that transcendent playing remains, but also because it's an extension, refinement and eschewing of that quartet strategy. Attempting any verbal elucidation is really unnecessary, as Wooley already does so in this double disc's accompanying booklet.
Anyone familiar with the battle pieces will have some idea of what to expect: transparency, history-skewing counterpoint, timbral intrigue, pitches between the pitches, and, obviously, the stunning contributions of pianist Sylvie Courvoisier, saxophonist Ingrid Laubrock and vibraphonist Matt Moran. In the Anthony Braxton tradition, they've become an ensemble representative of this facet of Wooley's concept, and they reprise that role here augmented by violinist Joshua Modney, cellist Mariel Roberts, pianist Cory Smythe and percussionist Russell Greenberg.
Data collecting aside, and as Wooley explains, this is music of communal interaction. negotiating conditions of ego and selflessness in the moment, each ensemble member then judges what is necessary to better the musical experience as a whole. Evoking boundaries he wishes elsewhere to blur, he calls the eight pieces concertos, even providing a transcription to illustrate the solutions brought to the table by these genre-busting musicians, but all that's needed is to listen to the first piece, to revel in its inexorable bloom, to dig the tempo-defying motion as obvious chord and melody are replaced by an environment in which point and line intersect, like the diverse histories each sound evokes. Notions of solo and group are similarly and simultaneously employed and dispelled, as with the stark, almost ritualistic opening of the fifth piece. The synergies are often achingly beautiful. Obviously working with composed material, the sixth concerto opens with piano, strings and vibes skating across an icy aggregate of rhythmic configurations but just as soon forsaking it for related pointillism and then for a pool redolent of tremoloed drone.
The dialectical process of turning, returning and beginning again may be the only constant here. As Wooley slides in and out of era-evoking vibrato and diverse articulation, engaging in the inter-registral thrust and parry bespeaking epic and allusion, the other musicians follow suit, as on the final concerto, where Laubrock jabs and jibes in sympathy. Listen to Roberts and Modney doing their chamber music impressions to the two pianist in microtonal interaction, or to the delicacy of vibraphonal interplay, to hear what symbiotic interaction achieves. Over and over again, despite changes in intensity, sympathy and empathy in communication are the overriding themes on which endless variations are constructed. The battle isn't won, because the structures in play ensure that it isn't actually fought; the music's beauty and serenity speaks to the conclusions inherent in each step along the journey.
Comments and Feedback: