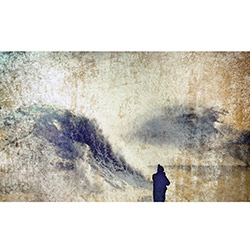 Ernstalbrecht Stiebler is perhaps better known as a producer for German radio than as a composer, although he has been actively writing minimalist works since the mid 1950's. Of the four works gathered here, three are recent pieces written specifically for violinist Biliana Voutchkova. They are arranged on the disc in ascending order of length, allowing a listener to dip a toe in before plunging headlong.
"Fur Biliana" is a series of see-sawing melodic fragments adjoined to double and triple stopped chords, quite lovely and somewhat mournful, methinks. "Glissando Fur Solo Violine" is just that, a series of sweeping glissandos against a fixed note, bearing an uncanny resemblance to animal voices at times. Two-note chords beat against each other before another downward sweep begins. Dive bombers. Swooping seabirds. Deflating balloons. The second half sees things going the opposite direction, ascension as subject.
"Extension fur Streichtrio" (with Nurit Stark-violin and Michael Rauter-cello), from 1963, features bowed and plucked quiet tones occasionally erupting into louder, more insistent voicings. As the piece develops, we are given big chords, slight glissando and hanging harmonics peppered amid short silences. Tension and release on a miniscule scale. The final "Duo 4 / Parallelen" (again with Rauter), is formed by a tonal round-robin that sounds like more than just two people. High notes remind me very much of Gagaku, that rarefied Japanese Court music, coming as they do closer to reed timbre than that associated with strings. It also very occasionally reminds me of someone breathing in and out of a harmonica. Not necessarily a bad thing.
Comments and Feedback: