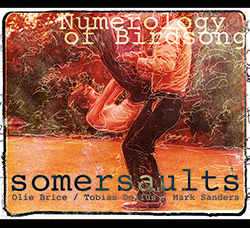 Back in 2015, the trio of double bassist Olie Brice, drummer Mark Sanders and Tobias Delius on tenor sax or clarinet, released their first album together, Somersaults, on Two Rivers Records, to widespread acclaim. Recorded at Iklectik Art Lab, London, in June 2018, Numerology of Birdsong is the trio's second album. Although the personnel and instrumentation are unchanged, the trio has followed a route taken by other groups (including News from the Shed, Way Out Northwest and Foxes Fox) and adopted the title of their first album as the group name. The album is also the first release on Brice's own West Hill label. Like its predecessor, this album is clad in eye-catching artwork by a sibling of Brice's which features someone actually somersaulting, both images hinting at the energy of the music within.
Brice has said of Somersaults, "I really love this group, probably my favourite context to play free in, of everything I do." Straight from the start of the album, his reasons for saying that are patently obvious: firstly, each of the three is one of the best on their instrument(s), a fact which can be taken for granted without them having to ostentatiously show off to prove it; secondly, the empathy and communication between the three has continued to develop as a result of their other activities and of playing together — the more they do it, the better it gets; thirdly, individually and collectively they naturally straddle the frontier between jazz and improv. As Brice has observed, "We all draw on a deep and personal engagement with the history and language of jazz which is present however abstract we get, but also which doesn't hold us back from that abstraction."
Anyone unfamiliar with Delius' past playing with the ICP Orchestra or Louis Moholo's Viva La Black should prepare to be amazed as he fluently demonstrates what a tenor sax or clarinet can do, simultaneously showing an impressive awareness of jazz history and flexible, quick-witted improv skills. Notwithstanding that, this is most definitely not a saxophone trio with the focus on Delius and a rhythm section in support. Rather, all three members contribute equally to the album's constantly-shifting soundscapes, employing sounds which are familiar from jazz but push the boundaries far further than jazz ever has. The end result is music which consists of three intimately interwoven instrumental strands; any one of them could be followed throughout and appreciated individually, but the combination of the three together is breathtaking.
Comments and Feedback: