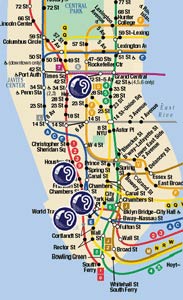 Poking around Manhattan for any period of time will soon yield a steady stream of tourists, eyes welded heavenwards, cameras in hand, relentlessly scanning left and right for the next spectacle. One should have caution when around such birds; an errant digit poses a significant threat to eyeballs. Rarely, however, do you find out-of-towners armed with a minidisc recorder, or a DAT machine. Surely our fair city is as much an auditory all-you-care-to-eat as it is it is an ocular one!
Apocryphally, John Cage said that when he moved into a loft on 18th St. and 6th Ave, he never bought records again. Whenever he wanted to hear music, he just opened his window. What can compare to the subtle symphony of pedestrian and road traffic? How many composers harmonies subtle as that of a screaming baby and a fire engine or rhythms as complex as squealing breaks and car alarms? The ears reel at the wealth of such sonic stimuli!
Of course, the nuances of street sounds can be somewhat unwelcome in an undercaffinated morning. But the shock always subsides and the hum of traffic blends with howling winds, underscoring the subtle interplay of rustling leaves and grumbling pedestrians.
Noise pollution?! How can you even think a phrase like that? I'll fight to the death to hear the Long Island Rail Road every morning; there are few sounds as life-affirming as the 7 train rattling over Roosevelt Avenue in Queens at the break of dawn. The sweet sounds of this fair city are in my book nowhere paralleled. Sure, New Delhi is louder and more brash and les rues of Paris perhaps more refined, but how can you compare it to the delicate clinking of change in indigent cups, the idle chatter of trust-funded youth, sizzling kebabs, clomping boots and clicking heels? Give me street performers like Kalaparusha Maurice McIntryre, Kenta Nagai and a free-jazz subway combo like Test over whatever else another city's got any day.
With su ch a rich ambiance to work in, NYC has a number of galleries and spaces devoted to the creation and presentation of sound art, in its installed and performed incarnations. These galleries present an excitingly diverse range of work, from the rigorously formal and conceptual to the more spontaneous and organic. With this in mind, I present to you "The Squid's Ear Sound Art Tour of Manhattan"
A few preliminary remarks:
Get a Metrocard Funpass. $4 will have you cruising the subways and buses all day.
Sound art galleries are not available in the way that visual art galleries in Chelsea and Soho are. As they are not dedicated to the marketing of commodities, galleries like Engine27 and Diapason are generally not as accessible as "traditional" art galleries are. You'd be well advised to check ahead of time to see which days and times they are open.
Turn off your cell phone.
Leave your headphones at home.
Engine27

Whatever you hear at the Engine 27 sound art gallery, it is likely to be perceptually overwhelming. Housed in an ex-firehouse in Tribeca, the gallery is home to the most sophisticated and awe-inspiring multichannel sound playback system I've ever witnessed.

Engine27 is generally open to the public on Saturdays and Sundays, exhibiting sound installations and, on occasion, live performances. The rest of the week, the gallery becomes a studio for artists to work. The overarching majority of what is exhibited is created on commission, specifically for the space. As part the commission, each artist is given 30-40 hours of time with an engineer to create a work to be exhibited in the environment.

I stopped into Engine27 early on a weekday, and had the pleasure of seeing the gallery without it's dress shoes on.Fragments of Leopanar Witlarge's composition-in-the-working hovered in the space as I took a slow walk through the gallery. It's d isconcerting enough to walk through an ex-firehouse filled with speakers that are at least half your size suspended from the ceiling; imagine the cognitive dissonance you feel when you see two people amiably chatting while shards of a disembodied voice moves from one side of the space to the other.

http://www.engine27.org/
Address: 173 Franklin St., between Hudson and Greenwich
Directions: 1, 9 train to Franklin St. Walk 1 and 1/2 blocks west on Franklin.


The Dream House

La Monte Young and Marian Zazeela's Dream House has been a fixture of the New York creative community for 8 years. Since its creation, it has been employed in the realization of their collaborative project "The Base 9:7:4 Symmetry in Prime Time...." (Go to the website if you want to see the entire title), which ostensibly becomes an immersive sound and light environment.

What's most amazing about the Dream House is how the meticulously structured and calculated, para-scientific study sensory input is deployed in a space is so gentle and warm. Fans of drone based music will be taken by the complex webs of sum and difference tones that are synthesized in real-time, and the corollary light sculptures at once suggest 19th century retinal psychology, and 60's minimalism.

There are a few pillows alongside the walls, and the carpeting is plush, but aside from a small shrine to Pandit Pran Nath and the sound and light producers, the main space of the Dream House is bare. There's no one ideal location to experience the piece, and you're tacitly invited to create the composition for yourself by walking around and turning your head. Every time I go, I end up slumped up against the wall, gently nodding my head and thoroughly losing myself. There aren't really audible indicators of time, so if you don't have a watch, it becomes tough to tell whether you've been si tting down for 15 or 50 minutes.

The Dream House is a wonderful place to go in the wintertime, as it's much warmer than it's surroundings. There's a $4 donation requested at the door and shoe removal is mandatory (wear clean socks.)

http://melafoundation.org/main.htm
Address: 275 Church Street between Franklin & White Streets in Tribeca
Directions: 1,9 to Franklin St. Walk east to Church, cross the street, turn left, and walk 1/2 block.
From Canal St. Station (N, R, Q, W, J, M, Z, 6) Walk west to Church Street and head south.


Diapason

Diapason resides in the midst of office buildings and the financial mutterings. You'd hardly guess that this narrow entranceway in midtown would be home to some of NYC's most innovative sound art. Michael Schumacher and Liz Gerring continue Diapason in the tradition of their Studio Five Beekman, and present installations and performances in the galleries. Often you'll see video projected on the 3 screens in the galleries, adding an interesting visual component to the music.

You'll have to plan your trip around this visit. The gallery is open on Saturdays and Sundays from 6-12 pm, and since it's so far removed from the other stops on the tour, it's recommended that you leave plenty of time for it.

Diapason is comprised of two separate galleries: a large chamber that you enter when you walk through the door and a smaller room towards the far end of the room. The second room is easy to overlook, but is always worth spending time in.

Fred Szymanski presented his "Friction Sticky Rough" in the larger chamber in October, filling the space with dense clouds of sound particles, ebbing and flowing. On the wall were undulating, synthetic structures, a visual analogue to the tactile effervescence of the music. Bernard Gunter's installation in the smaller room wa smu ch more spare, a single red bulb illuminating the room, with speakers pushed against the wall almost sculpturally. The music was haunting, so quiet at times that the sound from the Szymanski piece became a very real presence.

http://www.diapasongallery.com/
Address: 1026 Sixth Avenue, between 38th and 39th
Subway: Subway: 1, 2, 3, 7, 9, B, D, F, Q, N, R, W to 42nd Street. Walk 3 and 1/2 blocks south on 6th Ave.


Sonic Garden at the World Financial Center

I applaud the curators of the Sonic Garden for their curatorial acumen and progressive tastes. It's not often that one can hear innovative sound art from the likes of Laurie Anderson, Marina Rosenfeld, David Byrne and Ben Rubin in as public an arena as the World Financial Center, where hundreds and hundreds of people pass every day.

However, these works are in an uncomfortable space. The Winter Garden, of which the Sonic Garden is a component, is located within the World Financial Center in lower Manhattan. For whatever reason, that didn't trigger enough bells for me, and I didn't mentally prepare myself for walking right next to the site of the World Trade Center last November in order to get to the Winter Garden.

Context is so important to the reception of artwork, and the Sonic Garden, while admirably presented, can't escape the larger shadow it stands beneath. It makes David Byrne's collection of jokes and one-liners seem a little trivial. Taken on their own merit, the works are nice enough. Ben Rubin incorporates market economics in his work, while Marina Rosenfeld's echoing sound particles evoke an image of a large, quiet imaginary dream garden. Laurie Anderson's work alone seemed appropriately elegiac, it's single processed violin, which feels delicate and reverent.

http://www.creativetime.org/sonicgarden/map.html

Subway: Take the 4/5/6 to Fulton Street, the N/R to Rector Street, or the 1/9 to Wall Street. Walk to Church and Liberty Streets and cross the South Bridge to 1 WFC. Follow signs within complex to the Winter Garden.