Text and Photos by Kurt Gottschalk
Fans of challenging jazz in Chicago know that the best shows to see during the Chicago Jazz Festival aren't at the festival. The clubs light up at night, especially the Hot House and the Velvet Lounge, with after-hours jams that blow the lakefront concerts off the stage.
But the Jazz Festival has, in recent years, tried to do better by its hometown heroes. Founding members of the seminal Association for the Advancement of Creative Musicians - the collective founded by Muhal Richard Abrams in 196# that has seen the likes of Anthony Braxton, Henry Threadgill, Wadada Leo Smith and the Art Ensemble or Chicago rise from its ranks - have been booked and even honored by festival organizers. Last year, the festival introduced an "artist in residence" position, scheduling concerts and workshops with trombonist George Lewis and following that this year by giving Roscoe Mitchell the title. Recent years have also seen performances by Threadgill's Very Very Circus and a reunion of Abrams' Experimental Big Band, the group that gave birth the to AACM.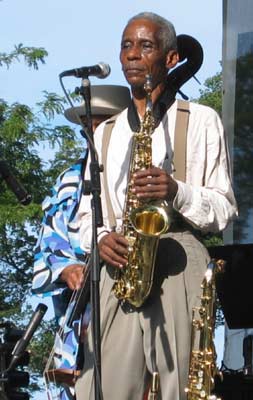 Roscoe Mitchell

Mitchell presented a big band and an octet during this year's fest, and two other Chicagoans of note were given slots: Ari Brown played a soulful set of standards with brother Kirk Brown on piano, Yosef Ben Israel on bass and onetime Sun Ra drummer Avreeayl Ra behind the kit, despite the increasing rain (which, by the time McCoy Tyner's big band was to come on had chased many, including this reporter, away). Also on the bill was a "Velvet Lounge" jam and a recognition of the 50th anniversary of Chicago jazz/blues label Delmark. (Famadou Don Moye's "Sun Percussion" drum summit was sadly canceled.) In short, they've come a long way from the days when the smooth jazz label GRP was underwriting and overwhelming the schedule.

There's still room for improvement, however. Their hair-brained seating policy at the main stage doesn't allow entry to the seating area once the capacity has been counted at the door, leaving people sitting on the lawn and empty chairs up front. Why they hold a festival from Thursday through Saturday and then skip the Labor Day holiday on Monday is a mystery, and poor promotion outside the city guarantees a loss of potential tourist dollars. A new outdoor amphitheater, designed by Frank Gehry, is under construction, and may hold promise for more satisfying festivals in the future. But until then, as Howard Reich pointed out in the Chicago Tribune, "sub-par acoustics, semi-pro emcees and constant audience chatter ... are intrinsic to this jazz festival."

The runaway smash of the fest, according to a number of people with whom I spoke, was Art Ensemble founder Roscoe Mitchell's Big Band set Friday evening. Because of flight delays, however, I missed the most exciting set of the weekend trying to fly the friendly skies. I did catch a strong set by Mitchell's octet Saturday afternoon, however. The group was billed as a septet, but at the last minute a third percussionist was added (that fact whispered to the emcee by Mitchell as the band was introduced). The group was at least part Note Factory, with Craig Taborn, Gerald Cleaver, Tani Tabal and Jaribu Shahid all hopping over from Mitchell's other mid-size group. They were joined by Vincent Davis, Cory Wilkes and the excellent Chicago bassist Harrison Bankhead, making for a rhythm section of one pianist, two bassists and three drummers.

They opened with one of Mitchell's slow bops, a pure jazz piece that was almost frustrating in its refusal to ignite for minutes on end. Mitchell can (and later would) play extraordinarily fast without risking cogency, but his tenor solo here began as single, articulated notes, slowly building to runs and blurs, the mighty rhythm section simmering to a boil behind him. The piece allowed for lyrical solos by Bankhead and pianist Taborn (the former ably comped by fellow bassist Shahid) before Wilkes pushed it into a storm warning. By Mitchell's alto solo on the second piece, the rhythm sextet behind him pushing as hard as they could, the storm had erupted into a tornado. Mitchell picked up his soprano, blew two notes and signaled a drum trio before taking a soprano solo with the full band that made his previous eruption sound subdued.

Mitchell can carry two or three distinct lines at a time. His remarkable speed and control over register allow him to drop a midrange statement here, a false-fingered phrase there and a low blow between the two. It's like a Picasso solo: at once a portrait and a profile of the same subject.

Mitchell's set unfortunately overlapped with a memorial tribute to the late, great AACM trumpeter Ameen Muhammed, which probably left many devotees opting for the living over the dead (Mitchell's set at the small outdoor stage, in any event, was packed.) The afternoon sets also included a surprisingly strong solo recital by Kurt Elling's pianist and arranger Laurence Hofgood and a Cuban pretension by saxophonist Jane Bunnett that started out entertaining but quickly became uncongealed party music.

The evening held a premiere of a new group by Windy City stalwart Ken Vandermark. The Crisis Ensemble opened with a brief, serene, motionless intro before moving straight into a funky bop propelled by Jason Ajamian's electric bass. After a few minutes, the groove stopped dead for a dense duo by Kent Kessler on upright bass and cellist Fred Lonberg-Holm, during which Ajamian switched to the upright as they led into a pointillistic avant blues carried by trombonist Jeb Bishop, then into an Ornettish bop led by Dave Rempis on alto sax.

The restless tentet take their name not so much from the obscure 1969 Ornette Coleman record, according to Vandermark, as the cover art for that record, which featured the Bill of Rights in flames. Vandermark drew his politics from the jazz pantheon for the set. One of the three compositions he presented was a piece called "Globe Unity," named after the big band pianist Alexander Von Schlippenbach founded in 1966 ("The sentiment is still relevant," Vandermaek said from the stage.) Here again, the namesake didn't follow the music so much as the message. The piece was a carefully sculpted suite, moving quickly, as Vandermark often does, through varying moods and ideas, and impressive piece that sounded nothing like the music of Von Schlippenbach's wild and wooly orchestra.

It could be said that with CrisisVandermark has found his soapbox. In the past, he has suffered from spreading himself too thin, often in an effort to pay tribute to previous generations. This group seemed to mold all the ground Vandermark tries to cover, from different eras of jazz history to his own compositional voice, into a strong (though hardly seamless) whole. The group included players he's worked with before (Bishop, Kessler, Rempis and drummer Tim Daisy are all in the Vandermark 5), and was supposed to feature Sun Ra alum Robert Barry on drums. (Illness unfortunately prevented Barry from participating, and he was replaced by Frank Rosaly.) Keeping a 10-piece band together in the current jazz economy is a difficult proposition, but the ever-resourceful Vandermark might, with luck, make this more than a one-night stand.

Getting into the after-hours at the Velvet Lounge - or at least getting into the main part of the club - means missing the last set of the festival proper, in Saturday's case the mechanized churnings of the Elvin Jones Jazz Machine. The room seats about 75 (Anderson would be wise to get rid of the tables, at least during the festival) and a recent spate of occupancy- and code-violation enforcement in Chicago resulted in head counts inside and a long line of people outside hoping someone might give up a bar stool. The Velvet packs as much of a punch in a few hours as the festival does all week, so it's not too tough a choice to make. Kidd Jordan and Bluiett (who's dropped the "Hamiet" from his name) were both in town to play the after-hours sets even though they weren't booked on the downtown stages.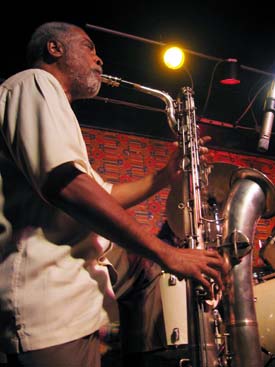 Bluiett

Bassist Bankhead opened the first set at the Velvet Saturday with an unaccompanied meditation (what Chicagoans called a "naked solo" back in the day), as Hamid Drake set up his drums. Jordan joined in, keeping the mood, and Bluiett followed on wooden flute. With Drake they soon hit the fury then found the swing, Drake's syncopations keeping them in the pocket. By the time club proprietor Fred Anderson joined in on tenor, they had settled on the swing and the fury, locking into grooves when it wasn't expected and slipping out of them again almost unnoticed.

Chicago is a saxophone town. It's a town where a dozen horn players line up to play with a single rhythm section on a wobbly stage in a club with peeling paint and after the Bluiett/Jordan/Anderson/Bankhead/Drake quartet finished (and a 50-minute break) the ranks began to swell and flank the stage. Douglas Ewart, Billy Brimfield, Malachi Thompson and Mwata Bowden were among those standing offstage, adding flourishes and waiting to take the stage.

Bluiett began the second set, yelling "This is Gene Ammons country, right? Let's let this shit roll" and doing an odd, brief squeal on his baritone sax before giving up the stage to hometown saxophonist Paul Taylor with Brimfield deftly leading punctuations from the offstage horn section. Ewart took his turn on sopranino, showing that with all his excursions into pure sound, he can still play the hard way. Thompson played clear and low as Bluiett took over leading the backing horns, everything well supported by Bankhead and Drake. Fred Anderson's Velvet Lound is considered home by many jazz travelers, and on such a night it's easy to understand why. This is their community. This is theirs.