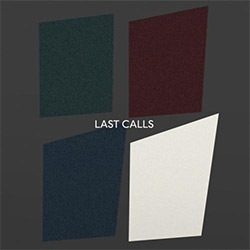 Last Calls is a live recording of the last of four concerts which were held at Café Oto, London, in July 2022, to celebrate the eightieth birthday of the renowned drummer Eddie Prévost. As the finale of the series, a special event had been saved for the last concert, a rare appearance of the group which Prévost had founded in 1965 along with Keith Rowe on guitar and the late Lou Gare on saxophone — AMM. Since November 2015, when Rowe rejoined after a prolonged absence, AMM comprised the classic line-up of Prévost, Rowe and pianist John Tilbury, and that was the trio advertised for this concert. However, as had happened with previous concerts in the series, not everyone could be there. In this case, Tilbury had sent a message saying that for medical reasons he was advised not to attend.
Rather than cancelling the concert, Prévost and Rowe played together as AMM, which recalled a period in the mid-70s, before Tilbury joined, when AMM was just the two of them. At Oto, the two began tentatively, each introducing sounds which have effectively become their trademarks; for Prévost those included bowed cymbals and gongs, for Rowe a variety of samples from recordings which included occasional snippets of Tilbury's piano. Slowly but surely the pair warmed up and their soundscape became fuller as the two reacted to each other's sounds. Throughout, their music was unmistakably AMM. As well as that concert recording, the album also includes a delightful thirteen-minute solo piano piece, "Postscript" which Tilbury recorded at his home in Deal, Kent, on January 18th 2023. As so often, Tilbury's touch and timing are as distinctive as fingerprints.
Although it was not specifically announced at the concert, on the night some audience members were speculating that without Tilbury it had to be the end of AMM. It was not long until confirmation of that appeared on various websites. At Oto, intentionally or not, Prévost and Rowe produced a suitably dramatic end to the last AMM concert. Approaching the hour mark of their set, Rowe fell silent, followed shortly afterwards by Prévost, leaving a prolonged silence before the audience eventually applauded enthusiastically. The rest is silence.
Comments and Feedback: