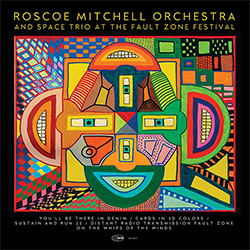 Twenty-twenty's Distant Radio Transmission with Ovstravska Banda revealed another realm of applicability to Roscoe Mitchell's compositions. A large classical/new music chamber orchestra can take them in directions that the Art Ensemble, or various smaller configurations or Mitchell solo could not. At the Fault Zone Festival, recorded live at a celebration of the legendary Mills College music program in 2022, continues that exploratory, expansionary legacy.
At the Fault Zone begins with the Space Trio: Mitchell on bass saxophone, baritone Thomas Buckner on vocals, Scott Robinson on tenor and slide saxophones. It is a clunky romp through some very challenging terrain. It has taken me years to come around to Buckner's style of vocals, but I think I have completed the process. In this piece, his voice is wielded as something inimitable by other instruments, at least as far as Buckner huffs, contorts and extends it. It is really something more human, and that humanity shines through in its juxtaposition to classic Mitchell staccato lines and Robinson's clucks and elisions.
Although those steeped in Mitchell's work already or more prone to AEC or his work with Anthony Braxton or Buckner may take more to the the trio performances (the opener "You'll Be There In Denim Blue" and the closer "On The Whips Of The Winds") or the dizzying but dramatic "Cards in 3D" (Mitchell with pianist Sarah Cahill and violinist Kate Stenberg), the heart of the performances collected on this album lays in the extended pieces for orchestra. The first, "Sustain and Run", switches from the abstract vocal lines of the first piece to a three-voice opera (soprano Erina Newkirk and baritones Roco Cordova and Buckner) backed by disjointed romantic melodies. Through this and the following track, "Distant Radio Transmission Fault Zone", shine influences from Edgard Varese, the Second Vienna School and Igor Stravinsky, digested and redeployed through some radical tonal deconstructivist approaches into something quite contemporary and inimitable. These performances reveal just how well Mitchell's compositions work for a more traditional orchestral setting. To these ears they sound like they could fit in the modern classical canon as well as anything else I have heard. Then again, this is not just Schoenberg 2.0. One hears a lot of Mitchell breaking through, often when the winds take over. Just listen to the piercing tet-a-tet of flutes (Joanna Martin Berg and Stacey Pelinka) 18 minutes into "Distant Radio Transmission Fault Zone" or his own teetering strings of blonks, breathy pulses and clunky lattice work in the trio pieces and this comes across as pure Mitchell. And suffice it to say there will never be another Roscoe Mitchell.
Comments and Feedback: