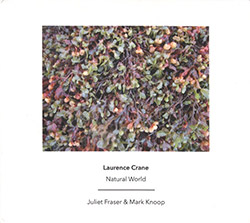 Laurence Crane is a renowned minimalist composer. After being approached and subsequently commissioned by Juliet Fraser and Mark Knoop to create an album, Crane created Natural World. As its name suggests, the central theme of this record is the ongoing climate crisis. This record expresses this issue with the utmost poise and delicacy through three distinct sections, showing us how finely balanced our natural systems are and how quickly we are knocking them off kilter.
The first of these three distinct sections is entitled "Field Guide". This section begins with deftly played piano chords that are attuned by moments of stark silence. Eventually, these chords take root and develop into repeating descending cycles. The sudden entrance of Fraser's vocals provides this sparse and typically Cranian minimal musical landscape with some much-needed vitality. The lyrics consist entirely of facts about the natural world, such as the Latin name for the European Wren. The matter-of-factness of the lyrics totally juxtaposes the emotional warmth of the vocals. The unease created by this contrast is accentuated at certain points by smatterings of atonal chords. There are hints that not all is well after all.
"Chorus" commences with background samples of bird song being underscored by some pensive piano chords. Sliding vocal sequences enter and try their best to act as a foil to the sounds in the background but to no avail. This fundamental disjunction between the natural order of things and humanity is highlighted further by occasional spurts of dissonance. The concerns suggested in the previous section have now been fully realized.
In "Seascape", perhaps due to sentiments that were carefully constructed over the course of the previous sections, the beginning is marked by all instrumentation retreating to leave a single keyboard whose hums pierce the empty expanse. These pining, unanswered swells allow the spoken and sung vocals to explore each corner of this bereft space. Samples of waves washing up and down a shoreline break up this musical status quo, albeit for a fleeting moment. This final section concludes by slowly devolving into silence.
Natural Order is unlike any other piece of art which addresses the climate crisis. As mentioned, rather than 'beating people over the head with a message,' Crane elects to create a reflective piece of art, illustrating the issue through delicate musical sequences which mutate through the slightest of changes adds another element to a discourse which is dominated by spoken word and visual media. Art like this is just as important as any David Attenborough documentary.
Comments and Feedback: