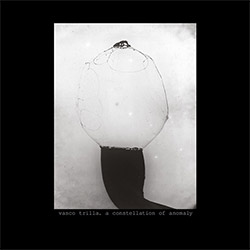 With solo percussion records, the trick for me is to not try to figure out how the sounds are being made, and to just listen. That's rather easy in this instance, as Vasco Trilla is adept at producing and placing his sounds in a way that pulls a listener in, implementing a wealth of detail and a surprising breadth of ideas. We stay engaged to find out where the path will lead.
There are beautiful clouds of noise alongside plucked string during the title track, a heart seizing boom that gradually swells into a monster drone. "The Shaking Hand That Leaves A Mark #1" offers a repetitive, children's melody on bells, a very brief aside before the metallic swells of "We Are Such Stuff The Foams Are Made Of". Hanging chirps and quiet shuffling abound here as well. Ominous rumble and airy mid-range dronage characterize "Circulations Of The Circular", sounding a lot like some kind of industrial appliance. "Chronocycle Graph" is a nightmare Christmas scenario wherein the drunken relatives vow to never leave, a pile-up of carolling reviewed through frost damaged ears.
Trilla is endlessly imaginative, and less interested in applying technique for its own sake than he is in calling up spells that intrigue and award attention. Being that there are seemingly a billion improvising percussionists on the planet currently, I can perhaps be forgiven for not previously knowing about Vasco Trilla. I am very glad that I've been introduced.
Comments and Feedback: