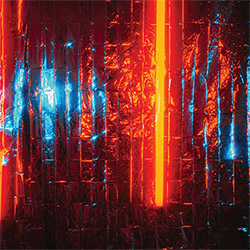 Nava Dunkelman on violin and Gabby Fluke-Mogul on percussion have been sounding together since 2014, and it shows. Set opener "Carmine" pits deep sounding toms against slashing melodic fragments and manic bowing, an impressive salvo which gives way to queasy sliding tones. "Momo" brings the grind in forcefully amid playful "little instruments" and quick-witted patter. There's an awful lot of seeming clairvoyance too, as the duo erupt spontaneously, over and over again.
Fluke-Mogul often brings in recognizable melodic fragments ("Lullaby and Good Night", "Lonely Woman", to name two on display here), which has garnered criticism in some quarters, but it feels to me more like reaching out to collect bits of the over-arching history of music to surprise and perhaps incite a chuckle or two. Something in the way she moves during a particular passage may suggest the architecture of a well-known melody, and so in it goes. The result is kind of like being whisked from a Victorian-era parlor to a modern living room and then into a smoky jazz club. Or a Warner Bros. cartoon.
Dunkelman's set up is more symphonic than jazz, she stands instead of sits, with the bass drum flat, allowing for the introduction of unique sounds and timbres. You'll never notice the missing footwork, believe me. There are beautiful clucking intensities at the start of "Royt", which lead into quick-pitched harmonics and slowly unravelling chords. How does she do that? Toward the end it resembles nothing so much as a miniscule sword fight, all flashing metal and light.
Comments and Feedback: