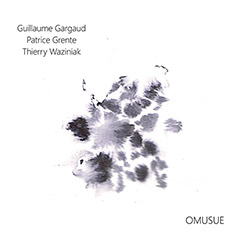 A choppy little disc of intimate improvisation for three acoustic instrumentalists. Playing standard drum kit alongside unamplified bass and guitar without drowning them out is no mean feat, and Thierry Waziniak acquits himself wonderfully here. He comments or provides just enough thrust to suggest direction without becoming overbearing. A committed listener, obviously. Guilliaume Gargaud on guitar and Patrice Grente on upright bass tumble and roil together in unpredictable masses of string tangle. I can discern no overt influence in anyone's playing here either, which is also not easy.
So much has come over the wire by now that it would seem that everything's already been played. And yet. The briefest of memory-nudges appear like quick-moving referents: a spate of drone in the middle of "BAUSHIG" conjurs up the ghost of Charlie Haden, or the briefest of old-timey jazz congeals and dissipates frequently. Greasy behind the nut plucking is followed by odd-meter scalar runs and popping snare-rim ticks. The affixed titles here seem like neologisms (I could be wrong), which fits perfectly with the notion that language needn't be overlayed on the practice of music.
The whole session has been captured in crystal clear fidelity. I am particularly enamored of the track "MW IQUE", with its open spaces and hanging chords, it sounds very much like a conversation between three old friends.
Comments and Feedback: