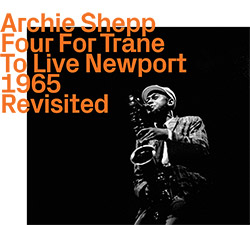 Although Four For Trane, recorded in August 1964, was tenor saxophonist Archie Shepp's first recording as sole leader, he had an impressive career prior to that album. In 1960, aged 23, he had been the saxophonist in the Cecil Taylor Quartet which recorded The World of Cecil Taylor, before he joined the New York Contemporary Five with John Tchicai and Don Cherry. When Shepp was finding it difficult to get a recording date at the Van Gelder studio with Impulse! Records, John Coltrane, who was ten years his senior, successfully interceded on his behalf. The resulting date led to the album Four for Trane, with Shepp's group including Tchicai on alto sax, Roswell Rudd on trombone, Alan Shorter (Wayne's brother) on flugelhorn, Reggie Workman on bass and Charles Moffet on drums.
They recorded the Coltrane compositions "Syreeta's Song Flute", "Cousin Mary" and "Naima" from Giant Steps (Atlantic,1960) plus "Mr. Syms" from Coltrane Plays the Blues (Atlantic, 1962). Compared to Coltrane's group that recorded the originals, Shepp's ensemble had no piano but did have four horns compared to Trane's lone sax. Consequently, the Shepp versions were looser, freer and more varied than Coltrane's own. In addition to the Coltrane tracks, the sextet also included one of Shepp's own composition, the free flowing "Rufus (Swung, His Face At Last To the Wind, Then His Neck Snapped)". Coltrane clearly approved of Four For Trane as he co-produced it with the label's Bob Thiele; a photograph of Coltrane and Shepp together graced the cover of the original Impulse! album. Coltrane subsequently included Shepp in the groups which recorded his albums A Love Supreme in December 1964 (the results were not fully released until they formed part of the three-disc A Love Supreme: The Complete Masters, released in 2015) and Ascension in June 1965.
The second part of this ezz-thetics release also has a Coltrane connection. Live Newport 1965 is the Shepp part of the 1966 album New Thing at Newport which was split between Coltrane's set at the 1965 Newport Jazz Festival and Shepp's set. Shepp was joined by Bobby Hutcherson on vibraphone, Barre Philips on bass and Joe Chambers on drums. The set begins with the same Shepp composition that ended Four For Trane. The juxtaposition of the two versions highlights the differences between the albums, with the quartet being sparser and Shepp the lone soloist. The inclusion of vibes makes the soundscape more tranquil. "Le Matin des Noir" is a breath-taking vibes feature which practically steals the show. All five live tracks are Shepp compositions, with "Scag" being a recitation of a poem by Shepp which confronts drug abuse in the ghetto. The other tracks are spacious and uncluttered so they showcase the compositions and the talents of all four quartet members.
Comments and Feedback: