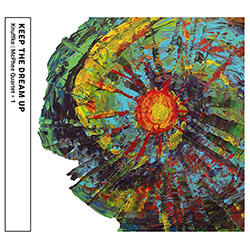 Realizing a long-held ambition, cornetist Kirk Knuffke has finally recorded with tenor saxophonist Joe McPhee after playing with him irregularly over the years. But the dream realized with this milestone CD offers more than a cross-generational blending of heightened improvisations by Knuffke, 43 and McPhee, 83. Contributing are two almost ubiquitous creative music figures, bassist Michael Bisio and drummer Jay Rosen. Added is German-American bass clarinetist Christof Knoche, a long-time collaborator with the cornetist and others.
The main focus is on group dynamics, although "Cracks into Burning", with only Knuffke, bass and drums highlights ascending brass continuity from muffled snarls to fluttering portamento backed by string spanking and drum hand patting and rubs. Knoche fits snugly in with the others, especially when mating chalumeau register smears with pointillist brass yelps (on "Reaching Ever Out") or tongue-slapping clarion bites with whinnying cornet shakes (on "Use of Clay"). Still McPhee's wide multiphonics and segmented reed vibrations take the improv to a higher level on the former tune.
There's also group chanting on one track and a McPhee recitation on the last, but the best expression of the sonic partnership is instrumental. After upwards cornet vibrations meet mid-range saxophone slurs on the penultimate "They will say", bass clarinet warbles join to create a horn trio. Expressive clarion wallows from Knoche and top-of-range blats from Knuffke complete that sequence, which, following a silent interlude, opens up into a cymbal splashing and drum rolling solo, with the narrative completed by a bowed double bass line following repeated notes in tandem from McPhee and Knuffke. Meantime the nearly 20 minute "You See the Lights" is illuminated with shifts from three-horn harmony, with muted brass surmounting reed squeezes, to individual solos that crackle with intensity via peeps, doits and irregular vibrations. Still a linear route is maintained with slow-moving drum ruffs and bass string plucks.
As musically adroit as he appears ageless, McPhee confirms his inventiveness once again. This time it's in the company of sympathetic players who easily attain the same standards.
Comments and Feedback: