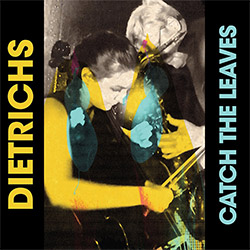 Dietrichs are the erstwhile duo of Don and Camille, he the saxophone frying member of Borbetomagus and she his classically trained cellist daughter. They offer us four sprightly forays into electrified synergy on this, their second recording together as a duo.
At the outset, Camille bangs her cello in what sounds like the barest of sound checks, before they open up a pandora's box of lung burst and string howl. It's a cheerful collection of goldleaf covered scree, and just in time too. The outer edges of these improvisations work like a cheery discussion of things mundane, which gathers weight until it spills into the heated retelling of agreed-upon truths, mixed with the over-amplified quotidian soundscape of kitchen or moving vehicle. That doesn't read like a recipe for cohesion, but it turns out to be jaw-droppingly beautiful. Electricity put to the best use ever. (Oh geez, am I gushing? I'll tone it down a bit).
I'll dispense with attempting a run-down of the proceedings, as words would probably just fix the sounds in a personal matrix, and that's not my intention here. As the far-flung members of the Borbeto squad make fewer recordings or live appearances at this late date, it's great to see them all branching out and continuing to spread the glee. Don and Camille are also members of a head scouring quartet called New Monuments, which I stumbled upon quite by accident. A good friend asked me recently if I'd heard anything new that was good, and when I told him about "Catch the Leaves", he was unable to contain his enthusiasm. "COOL" he sputtered, before dropping his phone.
Comments and Feedback: