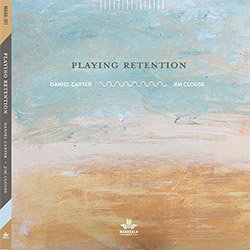 Much ink has been spilled about Daniel Carter over the years, and for good reason. He is not only an incredible saxophonist and instrumentalist more broadly, but he has been honing his craft for decades. Somewhat uniquely, however, he has been doing so in innumerable combinations, often drawing from the Downtown and Brooklyn scenes, but always with a drive to do something new. Lately, he has been surrounding himself with New York's younger crop of musicians. Although Jim Clouse has performed for decades, this is his first foray into free jazz recording (per the notes) and so might be considered part of the new arrivals to this type of improvisation, if partially.
And if not, no matter. Playing Retention is a collection of seven duos that cover a range of improvised moods, ranging from rollicking to jagged to sweltry. What sticks out is not just the way that these tracks wend, meld, diverge and develop over time, but the ways in which Carter and Clouse push each other outside of their comfort zones. The instrumentation, in addition to the convergence of traditions and techniques, is a big part of this. Clouse plays everything from his main instruments of soprano and tenor saxophones and drumkit to clarinet and piano. Carter also digs deep into his toolbox and steers the music with an almost preternatural verve, especially with his saxes and trumpet. When he sits in front of the piano or behind a drumkit, one hears new, clunkier articulations of his musical vision. (He has some experience with keys and less on drums.) For his part, Clouse had never played piano before this session, which makes his chordal work on "Luminary Voices", one of the standout tracks, that much more fascinating. It is simple and reserved but provides a fine basis for Carter to build his moody but beautiful soprano lines. "Coin Toss" is an interesting piece for the opposite reason. Carter plays drums and joyfully works his way around the skins and cymbals, almost happening upon slanted rhythms. Meanwhile, Clouse plays some Noah Howard/Coltrane-inspired modal lines that simply soar, marking a notable contrast to the scattered lines he lays out with the alto and soprano.
This is a playful, curious and creative disc. It offers those moments of perfection, when the musicians seem in perfect simpatico, most often on their home instruments. Before falling too far into familiar patterns (and free jazz is full of them), however, they switch and sometimes even stumble into new territories through relying less on what they know will work and more on their musical tuition. They lay themselves bare in these moments, and all for the better.
Comments and Feedback: