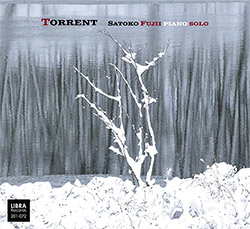 Just in recent years Satoko Fujii has started to look into the potential of piano soliloquy, after spending the bulk of her career working with partners of more or less prominent repute. She now reveals the artistic developments born from introspective solitude. A condition required to overcome the inevitable demoralization of all artists who, during lockdowns, had to readjust their work priorities in order to locate inside themselves the secret to intellectual survival. Naturally, this additional chapter benefits the expert reader of Fujii's sonic book, who is invited to acknowledge records of indisputable relevance such as Torrent.
Fujii's skill encompasses variegated constituents of pianistic art, yet the overall effect is that of a visual arrangement featuring both abstract cues and clearly delineated figurations, sometimes within the same track. Even in instances where improvisational speed and intensity soar, we remain distant from, say, the logical ferocity of Cecil Taylor, the freedom-soaked romanticism of Joachim Kühn, or the incisive lucidity of Irčne Schweizer. In her own special way, Fujii turns our ears towards the most pronounced aspects of the current poetics, letting us take in the sounds and the force behind them, including the faintest echoes from the instrument's guts in moments of sublime rarefaction.
No need for cheap tricks to highlight the performer's prowess. Instead, we are given a glimpse into a little cosmos of entwined harmonies, silences punctuated only by a few notes, cascading arpeggios that allow for the emergence of concrete shards in the lower register of the keyboard, occasionally in the shape of obstinate riffs. Still, when we begin to lose sight of the geometric significance of any "style", the jumbled rumbling of those pitches simply overtakes our ability to decode. It's all a part of the game, but it's not a game. This is serious music, created by an artist constantly committed to the probing of creative purity, and drawing on a set of unspoken references to construct a distinctive aesthetic.
Comments and Feedback: