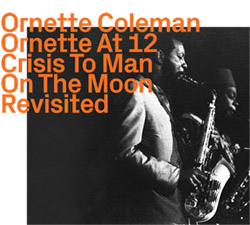 Listening to Ornette Coleman sessions from a half century ago, a few questions come to mind. Why was the multi instrumentalist considered so avant-garde? In 2023 what's most clear on the 11 selections is how jazz-like his music is. With his inimitable alto saxophone cry and unmistakably joyful compositions inspired by blues and marching bands, the undulating melodies don't sound far out. Also why were so many listeners & critics down on Denardo Coleman's drumming? He was 12 to 14 years old here and no Ed Blackwell — who replaces him on two brief, spacey tracks with the band and pioneering electronics player Emmanuel Ghent — but his variegated cadences are more sophisticated than any rock drummer's. More crucially he categorically creates the needed rhythms to mesh with inventions from his father, Dewey Redman's tenor saxophone; Don Cherry's trumpet and Charlie Haden's bass. As well, "Trouble In the East", with Cherry's wood flute peeps, siren cries from the reeds and buzzing spiccato from Haden and Coleman's violin presages the ethnic/electric sounds Coleman would soon make with Prime Time.
Redman and Cherry are the decisive factors here. Redman's pressurized split tones, scoops and smears match Coleman's almost unstoppable reed multiphonics tone-for-tone creating broken octave unity. Yet Redman adds ambulatory maturity to tunes like "Broken Shadows" that confirm their moderated traditionalism. When Coleman emphasizes screaming trumpet triplets (on "Rainbows") or pointed fiddle squawks (on "Bells and Chimes"), Redman's near-mellow cadenzas steady the performance. Haden's unassailable pulse and attention to rhythmic kinship is coupled with ability to intensify tension with multiple-fingering, tensile string vibrations. His power plucks reoriented the head of "Comme II Faut" impelling the three horns into a high-pitched lyrical variant. His own "Song For Che" mixes corrido melancholia with flamenco-like string reverberations, ending with slow horn harmonies that enhance themes of sadness and defiance.
Despite his importance, Coleman's discography is surprisingly sparse. This nearly 80-minute remastered disc reissues notable additions.
Comments and Feedback: