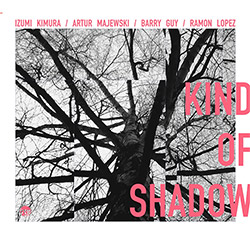 Confirming the internationalism of free music, this 11-part improvisation captures an ad-hoc quartet on its first meeting. While British bassist Barry Guy, Spanish percussionist Ramon Lopez and Japanese pianist Izumi Kimura have previously played together, Polish trumpeter Artur Majewski has not. It doesn't matters, for Majewski's deliberately paced brass timbres embellished, enhanced or contorted with electronics, complements the others' musical contributions like perogies with sour cream.
From the very beginning his atmospheric, ethereal breaths are mated with tabla-like thumps from Lopez, chunky double bass throbs and near-formal piano patterns. Although programming lets Majewski's trumpet sometimes create two separate but complementary sounds, on "Part Six", the technical wizardry is only one standout among many. Guy's string rappelling from near the scroll to the spike on "Part Eight", for instance, end with slapping pumps brawnier than associated drum beats. On "Part Four". Kimura's melodic story-telling abruptly transforms to dynamic chording that splatters upwards and downwards into pedal point, turning the exposition sideways as well as forward as bass clunks and rim shots cannily accompanying him. Lopez's rumbles and nerve beats seldom sound as if they're marching to their own drum but intersect with trumpet tones, whether heraldic triplets or half-valve buzzes, arco string squeezes or pizzicato pumps, and relaxed or rigid keyboard comping.
The extended "Part Three" is most indicative of the quartet's strategy. Muffled brass cries face elevated bass plucks and cymbal crashes as Majewski modulates to alp-horn like bleats and electrified growls. Despite the constant tone transmutation all maintain linear emphasis.
Some stomachs could find mixing perogies, tapas, boiled beef and sushi upsetting. As a musical buffet however there's no cleavage.
Comments and Feedback: