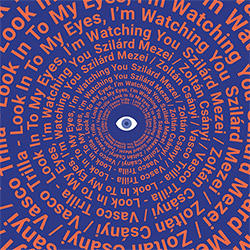 This trio session features one of the smallest ensembles that Serbian violinist Szilárd Mezei has led, in improvisations and interpretations pread over two CDs at about one hour each. Mezei, whose history includes discs that range from solo to large orchestra is aided by two equally accomplished associates, fellow Serb, versatile bassist Zoltán Csányi, and subtly inventive Catalonian percussionist Vasco Trilla. Technical sleight-of-hands and extended techniques don't dominate the tracks however. There's also a place for less ponderous fare: the brief "Do Not Look" for instance, which combines frog-end and col legno string hammering plus cymbal shakes, resembles a bouncy Hungarian dance, which is no surprise since Mezei is a member of Serbia's Magyar minority.
Nonetheless, extended note, tone and pattern examination is more frequently emphasized, especially during extended recitals like "Watching" and "Our". Almost 23 minutes on its own, the latter builds up tenaciously from jittery, broken chord motion from the violist mated with col legno thumps from the bassist, to individual affiliations both measured and multiphonic. With Csányi preserving the underlying ostinato, accelerating drum paradiddles and cymbal shakes confront the fiddler's singular plucks and woody ratcheting. The bassist's emphasized plucks usher in a section when Mezei moves to the piano for splayed chording and spraying glissandi, climaxing with contrasting dynamics. Having previously emphasized needle-sharp string jabs, returning to the viola, Mezei alternates shaking spiccato swipes with mellow sweeps that integrate with the bassist's solid plucks. In contrast "Watching" is more linear and lento on the part of the bassist and drummer and reaches a final section climax with a string-laden folkish air. During other tracks, passages highlight Mezei's fiddle skills, pushed at blinding speeds, often reaching staccato and prestissimo tempos as he affiliates abrasive strops, squeaks, whorls and whirls into nearly unbroken line extension. Elsewhere he exhibits near-formalism and in some sequences, Arcadian refrains.
To a lesser extent Csanyi gets space to advance rounded pizzicato pumps or tolling arco slaps, while Trilla's self-effacing percussion embellishments encompass bells shaking, gong resonation, wailing pumps and decisive patterning. With relaxed passages, reflective sentiments and raucous onslaughts parcelled out where they best fit, the close-knit program maintains interest throughout, balancing commotion and coherence.
Comments and Feedback: