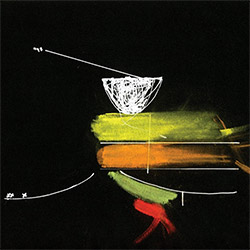 "Art don't work for abolition
Art works for bosses like you and me." -Fred Moten
So begins "the abolition of art, the abolition of human freedom, the abolition of you and me," the first track of Fred Moten, Brandon Lopez and Gerald Cleaver's self-titled 2022 release. It is a perfect entry point to what follows, as the three contort sounds and words in ways that are as powerful and perplexing as those first few lines. Abolition of what? Does "for" in the first line denote "towards the objective of," "in favor of" or "under"? Even once that meaning becomes clear in the second line, the pronouns dangle. Does art work for bosses as you and I do, or are we the bosses who create and deploy the art?
One could go through Fred Moten's poems line by line like this, as he wends partial pop culture reference into declamations of the military-prison-industrial complex. His verse is invariably potent and incisive. It is also calmly rhythmic. Moten's delivery rarely betrays emotion, at least through dynamic range, but lays an unembellished cadence with a control that brings all focus to the words, and pauses, rather than the volume or pitch. In a sense, the words speak more than the speaker. Behind him Brandon Lopez and Gerald Cleaver assume the collective role of laying waves of thrumming ambience, but also of prodding the pieces forward. And, at times they drift to the fore with a force and (a)rhythmicism that would stand even without Moten's interventions. They play with each other as much as they support Moten. The result is propulsive and dark.
At times, one expects to hear a sax or trombone cutting through the soundscape. But part of the strength lies in that very absence. The listener can focus on the deep tones of Lopez and Cleaver's loose rhythms. And of course, that means the listener can also home in on Moten, who takes on the front-man role, replacing melody with meter. And Moten is a hell of a poet. As pieces such as "a poem for black art" indicate he is steeped in the Black Arts movement and Amiri Baraka, and that influence comes through in his free-flowing aphorisms, his heavy use of alliteration and assonance and his paring New York School casualness with biting social observation and critiques of unbridled capitalism, consumerism, militarism, education, structural and physical violence, and much more. Despite any due homage, however, this is hardly Black Dada Nihilismus 2.0. (Admittedly, it is hard to listen to this without thinking of the New York Art Quartet and Amiri Baraka at certain intervals.) Rather, this is rooted in that tradition, but is also vitally and urgently contemporary, and something wholly its own. A must-have, as far as I am concerned.
Comments and Feedback: