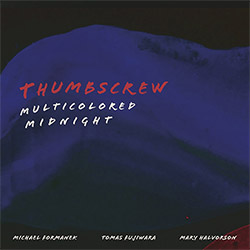 After 10 years together the members of Thumbscrew have worked out a tripartite strategy taking full advantage of each other's skills. That means these selections are moored by Michael Formanek powerful bass work, affiliated with a taint of electronics; balanced by Tomas Fujiwara drum pulses; and are decisively expanded by his vibraphone coloration and the spectrum created by Mary Halvorson's guitar strokes.
Note this flexibility when contrasting "Future Reruns and Nostalgia" and "Capsicum Annum". Low key and atmospheric, the first vibrates among arco buzzes from the bassist, shimmering vibraphone chiming and tough guitar licks. In contrast, the second stretches foot-tapping swing projected by chugging rhythm guitar licks with a stop-time exposition that later encompasses Fujiwara's press rolls, Formanek's string thumps and Halvorson's sliding plinks ending in a measured connection.
Because of her instrument's lighter tone, Halvorson is often in the forefront and makes the most of it. She invests tunes with pedal-steel-like tremolo vibrations; slurred fingering that resonates against vibe pops and bass stops; and cuffed chording that can sound two notes simultaneously, yet also keep the exposition linear, helped by steadying bass plucks. Elsewhere Formanek and Fujiwara make their presence felt by each creating introductions to several tracks. However it's "Shit Changes" (!) which shows the trio off to its best advantage. Carefully melded, vibraphone bar ringing, delicate guitar plinks and dedicated bass stops evolve in close counterpoint, echoed by electronic shakes and wrapped up with a bouncy horizontal arrangement.
Judging by the evidence the rule of thumb here is that there's nothing this trio can screw up.
Comments and Feedback: