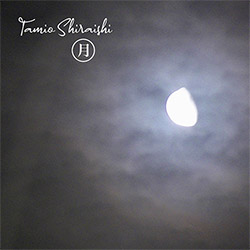 I know of Tamio Shiraishi from his live-in-the-street recordings with NY percussionist Sean Meehan, and from many YouTube videos of him attempting to imitate the sound of trains braking in the subway stations. His stock in trade is an extremely high-pitched squeal that contains nuance and filigree as well as mind altering frequencies.
On Moon, he is set against various partners in duet spasms to astounding result. The opening turn drops him amid the ungodly bass rumble of Mico's piano, before everything drops away for a brief bit of wandering melodicity. The second offering pits the saxophone squeal against Leila Bordreuil's cello at Issue Project Room in a sonic firestorm.
Overwhelmingly gorgeous in its insistence, with hairy feedbacks and crystalline harmonics a-plenty. This heaviness continues through bits with Chris Libutti on guitar and then Mike Sidman's throat throttling electronics, quieting down somewhat with Nina Dante's unamplified voice and with Austin Sley Julian's crunchy guitar dance. Ami Yamasaki sets up whistling overtones which elicit spiraling cries from Shiraishi.
For all the seeming austerity of his chosen approach, there is a lot of variety and searching against these various partners. I think my favorite here is the loud-then-quiet push-pull of the set with Tim Dahl on electric bass (and some sort of muttering). The sax slots in seamlessly here, becoming part and parcel of Dahl's spasmodic eruptions. Not so much an argument as a dual tirade.
The aforementioned subway is represented by a recording with Steve Baczkowski on (I think) tenor sax, whose chosen modus here is mostly long held tones in a somewhat lower register than Tamio's. And yes, there are trains. The final turn with Tara Fenamore is somewhat calmer again, alto slivers and slight floor thumps against lonely-girl-in-a-tunnel vocalizing. Very pretty in a WTAF kind of way.
Comments and Feedback: