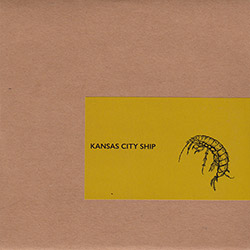 Undisputable proof that creative musicians can flourish away from major jazz centres and that fusing percussion, electronics and strings can produce complex as well as caustic music is illustrated by this CD. While Japanese-American percussionist/sound artist Tatsuya Nakatani is so nomadic that his multiple gigs and recordings take place on three continents, his accomplished associates are Kansas City residents. As reflected by this comprehensive single-track improvisation, pedal steel guitarist Michal Stover, also involved in more traditional sounds; bassist Jeff Harshbarger, a jazz educator and journeyman player; and organ/synthesizer player Shawn Hansan, involved with multi-media projects often created outdoors; these players aren't hobbled by being homebodies.
While this concert took place indoors in the Ship club, there are enough idiophone reverberations, abrasive metallic scratches and blustery keyboard oscillations to create a unique sonic landscape. Plus, intergalactic whooshes and programmed drones suggest that at points they may not be in Kansas anymore. Echoing percussive clanks, pointed guitar twangs, strident double bass pulses and hollow percussion knells take the place of a regularized beat.
Yet among the rubbed alloy screeches, arching tremolo washes, concert harp-like glissandi and single string pops, horizontal momentum is retained. Slowing down and quietening during the penultimate sequence the piece then surges to a louder and more strident crescendo divided among steel-drum and kalimba-like echoes, electronic warbles and reed-like trills. Having reached regular and repeated sound patterns, the finale gradually slides the overriding drones, drum backbeats, metal abrasions, pedal guitar single strokes and drum shuffles from the foreground into a collective dissolve.
Having vibrated and investigated multiple rugged tones, the four players prove that a combination of downhome and visiting improvisers can actively create a fascinating auditory program.
Comments and Feedback: