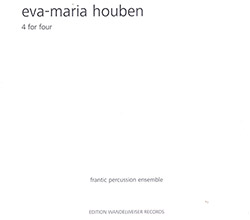 German composer and keyboardist Houben has released a large number of recordings since 2004 — over 60 by my count. A good number of them and, arguably, the compositions on which her reputation rests, are for piano or organ, particularly the latter. As such, they comprise some of the most invigorating, thoughtful and deeply imaginative music of the last 20 years. So this work for percussionists comes as a mild surprise. Despite the piece's title, the group employed, Frantic Percussion Ensemble is made up of five members (Markus Behn, David Gutfleisch, Simon Gutfleisch, Gunnar Kötke and Jonathan Szegedi) though perhaps only as many as four are heard at any one time.
4 for four lasts less than 40 minutes and consists of 34 sections, each running between a half-minute and just under two minutes. There are no liner notes included nor any description of the score, but to this listener, it seems as if the musicians were provided with a great deal of latitude, perhaps asked to investigate a given sound area within a defined time bracket, though this is just a guess. As one might expect, the overall ambiance is one of quiet and spaciousness, though sharp sounds — clangs of metal, strongly struck wood blocks, etc. — make their presence known with some regularity. And even the space, while relatively unoccupied by "normal" standards, is busier than in many of Houben's compositions. There's not much apparent connection between the parts though, given the quietness, they tend to flow into one another. My main issue is one that brings me back to a decades old problem with many jazz percussionists, particularly those operating in a wider context from, say, the late 60s onward, where they would come equipped with, apart from a drum set, dozens upon dozens of "small percussions" and some of them would feel obliged to utilize each and every one — 15 seconds on a guiro here, 30 seconds on a shell cluster there — during a performance regardless of whether or not the music called for same. I pick up something of a similar vibe here, with a wide range of sounds generated, wide enough that something of a grab bag effect sets in. I might have preferred an intense concentration on a severely limited number of sound sources, delving into them deeply.
That being said, 4 for four proceeds well enough and provides decent journey into the soft, percussive landscape. I'd be curious to hear various readings of the piece by different ensembles.
Comments and Feedback: