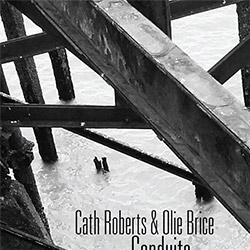 An exercise in low tones, these real-time improvisations by Brits, bassist Ollie Brice and baritone saxophonist Cath Roberts, were created over the internet from each musician's home. Yet the three selections are so profoundly connected that distance is dissolved. Roberts, part of the Sloth Racket band, and Brice, who records with innovators like Paul Dunmall, proceed as if standing next to one another.
Expression and response is immediate. So if the saxophonist projects honking vibrations the bassist is there with col legno plucks as soon as she stops. This continues whether the reed output encompasses altissimo flattement, squealing yips or moody tongue slaps since they're often answered with steadying powerful pluck. Still while Brice is mostly responsible for maintaining a horizontal flow, he can reverse the process, with Roberts echoing snorts as comebacks to bassist's double-quick slices or angled vibrations. These threaten to fragment the interaction until alternating snorts or unexpected squeals corral them back into cohesive unity.
Technical timbral stretching to get away from the expected basement tones from both instruments appears in the form of vibrated tongue stops, irregular smears from the saxophonist and woody col legno slaps and thick sul ponticello sweeps from the bassist. As well, a rhythmic undertow keeps the unfolding improvisations centered. Furthermore "Buoyancy Chamber", which despite its title moves at a slower and steadier pace than the other two tracks, adds a melodic tinge and foursquare rhythm to the session.
A kaleidoscopic indication of the variety that sophisticated improvisers can extract from instruments usually relegated to basement tones, Conduits also confirms how telematic connections can be used for distinctive musical creativity.
Comments and Feedback: