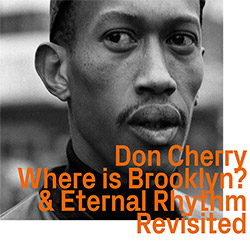 The short upward darting line Don Cherry plays on his cornet right after the theme statement of the opening track, "Awake Nu," succinctly sums up the spirit of this disc of material originally released in 1969 that is marked by a sense of urgency and call for freedom.
Often, discussions of Free Jazz stick to aesthetics, but the elephant in the room is the bursting-at-the seams need for civil awakening, and the distressing turmoil the world and the USA in particular was experiencing in 1966. This comes out most forcefully in the first five tracks that make up Where is Brooklyn? The machine-gun rapid fire drum explosions of Ed Blackwell in particular remind us of the violence of the time, both in the USA civil rights struggles and on foreign shores where young Americans were killing and dying.
It is uncanny how some music can capture its time vividly while simultaneously transcending it. This is emphatically the case with the first five tracks that feature Cherry leading a quartet that includes Pharaoh Sanders on tenor and piccolo, Henry Grimes on double bass and Blackwell on drums. Five tunes with different characters, the bold declarative opener mentioned above, the anthem-like cornet-sax statement of "Taste Maker," the more gingerly phrased "The Thing," with its silences and reflective unfolding of beautifully heterophonic melody, the Martial alarm of "There is a Bomb" and the long rallying cry that is the 17-minute "Unite."
The second release included in this reissue is the marathon collective interpretation of Cherry's Eternal Rhythm, recorded in Germany in 1968, featuring Cherry in the company of seven Europeans along with Cherry's compatriot, Sonny Sharrock on guitar. This second section of the album is a very different kind of experience, but of an equally sublime nature, announced by whimsical flutes and the euphoric clanging of gamelan instruments and bells. After the melismatic, lyrical opening section, the military drumming of Jacques Thollot builds to a angry burst, then the gamelan and flutes take over, rhythmic and celebratory of the mysteries of life and its multifarious qualities, evoking a sense of the world in all its splendor and terrible beauty.
In this post-Ornette slice of life, Cherry is very much in ascending form, playing beautifully and inspiring stellar performances from all involved. This album is truly a joy to listen to from start to finish. I dare anyone to listen to it only once at one sitting. I know I kept pressing the play button.
Comments and Feedback: