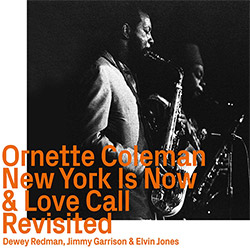 The ample liner notes by Bill Shoemaker that accompany this reissue of two early career releases by Ornette Coleman shed some light on the significance of these two titles to his oeuvre, as well as situating the music in its late 1960s context. This was a time when Coleman's language had matured and his music went on to influence a generation of players, including Pat Metheny, whose debut album (Bright Size Life) included two tracks from this set, "Broad Way Blues," and "Round Trip." Shoemaker writes that "If anyone came close to mainstreaming Coleman's music, it was Metheny."
Recorded in April and May of 1986, the nine tracks are notable as coming from Coleman's intense creative period, but also because of the presence of bassist Jimmy Garrison and drummer Elvin Jones (John Coltrane's best-known rhythm section) and Dewey Redman on tenor saxophone. Garrison and Jones highly propulsive playing, it seems, brought out the best in Coleman, who plays with a strong creative spark, spinning lines that just keep coming at you. It helps to have Dewey Redman along, too; his distinct tenor+plus vocal sound fits right in with Coleman's aesthetics, and his lines are as inventive and outside-the-box as the leader's.
Charles Mingus reportedly dismissively characterized Coleman as "the calypso musician" (quoted in Sue Graham Mingus' memoir Tonight at Noon), but that is not far from the essence of what Coleman does here with his very strong rhythmic sense, combined with an inventive and playful melodic sensibility. As we know, harmonies, the labyrinths that make up most jazz standards, didn't interest Coleman, and he sought a freer way to be creative musically. This setting is perfect for that. The compositions are all well-crafted vehicles to begin with, but Coleman, fueled by the rhythm sections' infectious dynamism, push him to play some of his best harmolodic stuff, including on trumpet in "Love Call" and violin on "We Now Interrupt for a Commercial."
Comments and Feedback: