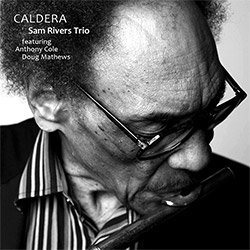 Caldera is the sixth volume of the NoBusiness label's Sam Rivers Archive Project which began in 2019 with Emanation. Like the rest of the series, Caldera comprises live recordings which are not reissues but are being released for the first time. Where past volumes have featured concerts dating from 1971 through to 1981, Caldera leaps ahead two decades, having been recorded on March 9th 2002 at Freeport-McMoRan Theatre, Contemporary Arts Centre, New Orleans; the first six tracks are from the first set, the last two from the second.
As so often, Rivers plays tenor and soprano saxophones, flute and piano plus voice. He is joined by two players who are just as versatile, Doug Mathews on upright and electric basses as well as bass clarinet, and Anthony Cole on drums, tenor saxophone and piano. Formed in 1993, this trio was together until 2006, thus making it Rivers' longest-lasting small group of his career; this trio previously released the 1996 studio-recorded album Concept (Rivbea, 1997) and the 2000 live recordings Firestorm (Rivbea, 2002)
Caldera's eight tracks together play for seventy-one minutes, with the three longest tracks — each entitled "Improvisation" plus a number — accounting for two-thirds of that time. Despite the length of the trio's improvisations, it is noteworthy that Rivers' freely improvised saxophone solos do not run for as long as they once did, as heard on earlier volumes of this series; by way of explanation, it may be worth noting that Rivers was seventy-eight when this album was recorded. Nonetheless, while he may have lost in quantity, he retained or even improved in quality. That is particularly true of his flute and piano playing, with "Improvisation I", which opens the album, being noteworthy as Rivers and Cole play pianos simultaneously, to thrilling effect.
While all six volumes of Sam Rivers Archive Project are essential, this sixth volume seems likely to reveal facets of Rivers' music that may not be familiar to all his devotees. Strongly recommended.
Comments and Feedback: