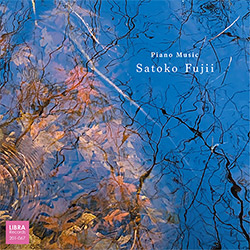 For two reasons Piano Music is an intriguing work. The first concerns the form of this album: it is typified by a cohesiveness in that each of its minutiae sprawl like a tree extending toward the sun. Yet, despite this appearance of organicity, this album is the product of sounds being sewn and stitched together. The second reason regards the title of this album: it is ironic. Fujii obfuscates the signs of the piano such that they can no longer be recognized; the instrument that is borne from this series of blurring can only be called a "piano" nominally.
Rather than using its keys, Fujii uses the strings of their "piano" to produce the individual moments that are aggregated to compose their sonic tapestry. Among other methods, through either affixing EBows to its high strings or by rubbing its low strings with a big felt mallet, Fujii uses their "piano" to engender foreign tones and alien textures.
Piano Music begins with "Shiroku." Initially, this track unfurls to reveal a throbbing, organ-like drone. The rigidity provided by this drone is juxtaposed with swarms of shimmering movements. These swarms eventually phase out and give way to individual shrieks; however, these shrieks merely dissipate into the void, going unanswered. Such shrieks are redolent of those singular whales that sing haplessly into the oceanic abyss, dreaming of a response. The next track, "Fuwarito," breaks away from "Shiroku." In the former, elongated drones are substituted for rhythmic flurries, which go into remission just as quickly as they metastasize. However, in another sense, "Fuwarito" is a continuation of "Shiroku." Just like the latter, the former contains swarms of shimmering movements. The swarms of "Furwarito," though, have a different character to them, possessing a nebulae-esque serenity as each of their elements glisten, piercing through the mix.
Fujii says that she wants to make music that no one has heard before. Not that this was ever in doubt, but Fujii continues to realize this sentiment. The tones and textures produced in this album are far beyond the conceived rubric of the piano; new sonic territory has been discovered. I wonder what new land Fujii will find next.
Comments and Feedback: