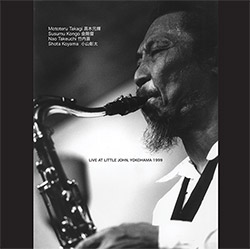 Live at Little John, Yokohama 1999 begins like a lot of free improv performances do, with the musicians fumbling for a motif or melody or direction that sticks. About five minutes in Shota Koyama steps up and offers a percussive canvass that seems to provide the stability for the three horn players. This is when the musicians fall into step and the piece really gets inspired.
With a line-up of three horns, one might assume the performance would be something of a blow-out session, wherein Mototeru Takagi, Susumu Kongo, and Nao Takeuchi fight for center stage and Koyama struggles from the background to be heard among the ruckus. But this is not the case. Rather, Live at Little John offers a series of jagged strands of sound that tangle, enmesh, and rend their collective handiwork apart only to pull back together in a calico but coherent statement of the state of seventies-inspired free improvisation at the millennium.
Now, there are moments of hard blowing, in pairs and triples, including one 21 minutes into the 40-minute opening romp "Yokohama Iseazaki Town". Amidst such force, however, emerge clear phrasings and, on this specific take, a stilted march reminiscent of Kurt Weil minus the melodicism. This music swings, but not in the jazz sense. Rather it veers and rocks unsteadily between Coltrane-inspired modal motifs and the heavy, thumping sections of measured free blowing. In the case of the opener, which is both initiator and heart of this performance, any tendency toward blasting entropy is quickly reined in, whether encircled and pacified by Koyama's busy hands or shredded bluntly by Kongo and Takeuchi's bass clarinet interventions and finely by their manic flute runs. (For his part, Koyama plays expertly, like Sunny Murray with heavier rock inclinations but a similar intent to imply rather than set the rhythm. Unfortunately, on this otherwise impressive live recording, his quieter contributions are too often buried in the background.) Interestingly, this piece adopts a pastoral romanticism about 30 minutes in, further shattering any lingering doubts the listener might have that this is going to be some kind of micro-Globe Unity Orchestra free-for-all or World Saxophone Quartet hard-blowing melodic sprint. Rather, the instrumentation and instrumentalists enable this album to avoid the clogs the former, at least, sometimes encounters. Takagi, Kongo and Takeuchi never outshout each other, but instead produce a colorful mélange of timbres cutting every which way.
The second track, Yokohama Yamashita Town, starts with a slow, contemplative build in the vein of Sonny Simmons, Noah Howard, Coltrane, and their ilk. Here, however, it dances around a suspended bass clarinet hum that evokes the heavy breath of a digeridoo. The piece develops organically and incrementally over its twelve minutes, reaching a climax of soulful ululations about halfway through and falling to a doleful modal fade in the end. The closer, "Yokohama Yamate Town", starts with flutes a' hoppin' and falls into a dully roaring groove as Takagi and Koyama step in. Maybe the quartet was just warmed up by this point, or maybe they were just having fun. Either way this piece showcases some especially fine entanglements, especially as Takagi, Kongo, and Takeuchi trade, tug, and layer their supple and dynamic phrases. Especially when the flutes take over again, one even hears a break with the neo-romantic and boxy new thing tendencies displayed earlier in favor of a new music-infused high-pitched pointillism. In a nod to the start of the set, "Yokohama Yamate Town" then gives way to some heavier sax blowing and some back-and-forth spitfire and percussive deflections, which draw the performance to its conclusion. Cheers to NoBusiness for releasing this treasure and, of course, to Mototeru Takagi and co. for letting us sit in, remotely, on a truly collective and rousing night of improvisation. Naturally, all archival recordings are not necessary worth releasing, especially in physical format. Add this to top of the pile that is.
Comments and Feedback: