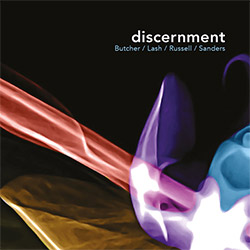 When UK guitarist John Russell died of cancer at 66 in January 2021, the creative music world lost not only an exceptional improviser, but also a committed organizer. Starting in the 1980s, among his other activities, Russell helped set up Acta Records (UK) and coordinate MOPOMOSO, London's longest running free music concert series
Still these sidelines didn't detract from his inventive and sympathetic playing, as demonstrated on this session, recorded a year before his death. Part of the reason for the perceptive communication is that one of the participations is saxophonist John Butcher, with whom Russell had been playing for over 30 years. Percussionist Mark Sanders and bassist Dominic Lash are slightly younger players who also frequently worked with the guitarist.
During these two extended free music conversations no texture is overbearing. From Sanders' bell-like cymbal pings to Bucher's biting muiltiphonic expansions and Russell's twangs and slurred fingering created by guitar neck pressure, dissonance is mixed with linearity. Additionally, Lash's stable sting buzzes contribute the most to preserving constant forward motion.
Overall, the quartet works through brief combinations of duo and trio counterpoint, but never long enough to disrupt the group flow. That means that singular intrusions such as Russell's warm strings rubs, Butcher's cawing bites and a bit of circular breathing, Sanders' plastic bottle-resembling pops and even Lash's low-pitched thumps become part of the logical sonic evolution. The concluding "discerned" agilely expands on the situation. That means percussion scratches, aviary reed peeps and beeps and brief guitar stings that expose staccato expressions, are succeeded by a succinct lyrical soprano sax and guitar interlude which decisively vibrates to the conclusion.
Comments and Feedback: