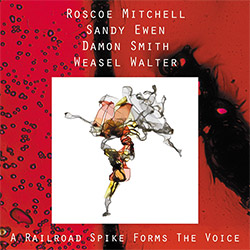 This is not exactly Roscoe Mitchell's Punk-Jazz record. But this nearly 72½-minute instance of free-form improvisation features the veteran AACM member adding his varied sopranino, soprano and alto saxophone tones to the sonic turbulence created by an established trio whose members are also involved in electrified noise music. While solid bassist Damon Smith's jazz background with the likes of Alvin Fielder is known, electric guitarist Sandy Ewen and drummer Weasel Walter are more often found on the more clangorous and rockier side of things.
Despite that, the drummer isn't a slammer but instead drives the selection with smacks, clatters and paradiddles. He has only one brief solo during the tune's final sequence which exposes a scrambling fluid drum pulse and cymbals' metallic clangs rather than self-aggrandizement. Worldly in the ways of improvisation, whether bowing or plucking strings, the bassist too is dedicated to linear advancement. With clenched pizzicato strums or string sawing arco runs, his fluid accompaniment not only creates the foundation on which others can build, but also works up connective duos or trios with each of the others, especially the saxophonist. Architecturally trained, Ewen's tone construction takes in all parts of the guitar from below the bridge abrasions to dial-twisting echoes to watery string slides to crackling frails resulting from electronic manipulation.
Mitchell's skill is remarkable on its own or connecting with the others. Interpolating clarion peeps, shrill whistles and nasal snarls into standard expositions, he frequently isolates electrifying circular-breathed interludes. Opaque and seeming endless, these instances of reed reflux lead in and out of unique story telling motifs where flattement and split tones meld sanctified soul with South Side shouts.
Keeping the interface steadily moving, the tandem or singular sections define sound cooperation without anyone having to negate stylistic individuality. Yet together the four have created a unique and galvanizing program.
Comments and Feedback: