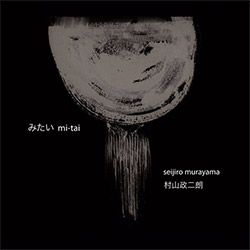 A beautiful set of solo percussion recordings from a long-practicing artist. After spending much time doing performances partly using pre-recorded bits, here Murayama pairs things down to examine the core of his work.
As a percussionist myself I found it difficult to not try and imagine just what Murayama was doing to make these sounds. A detailed rundown of instrument listing for this disc found on the web partly cured me of this habit, allowing me to focus on the sounds themselves. Everything here is very well recorded — the woody ticks and singing membrane of "do-tai 1" (think miniature horse on a pliable surface), the inexplicable low-end ringing of "in-tai 1" and "in-tai 3", and the fluttering slaps of "shin-tai 1". This allows for close inspection of the various timbres and a-rhythmic timings. Each piece is based on a very small sound area which is then explored with attention and tenacity, setting up rather meditative "grooves" or sonic clouds. The weird pitch-changing oddness toward the end of "shin-tai 1" is of particular interest, with its interruptions of skin smack.
Murayama has set out to catalogue his varied approaches to his instruments and given us a collection of detailed and sustained improvisations that hold the attention in a loving grip. Hopefully there are more coming soon.
Comments and Feedback: