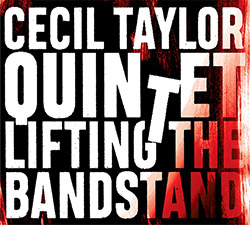 As it happens I've been listening to Cecil Taylor a lot lately, so this live recording from Finland in 1998 couldn't have reached my hands at a better time. A large chunk of the recordings of Taylor's American Units were compositions (though you might not realize it on cursory listens), and here we find him improvising in the company of Harri Sjostrom on soprano sax, Tristan Honsinger playing cello, Teppo Hauta-aho's double bass and Paul Lovens behind the drum kit. The differences may be subtle, but to know that this music was conjured on the fly, with no over-arching guide, makes it all the more remarkable. My first encounter with this disc left me very nearly hairless, such is its intensity.
It begins with Taylor and company vocalizing in rhythmic "nonsense" syllables accompanied by ankle bells and footfall, with a weird squeaking. An opening announcement from the ether. Some people find this aspect of the music tiresome, but to me it feels like a door slowly creaking open, a soft entry into the maelstrom. These men are gathering their energies for riding the landslide. Dovetailed into the oratory we get string saw and wipe with smacking thumping and wooden knocks leading to a very brief and lovely dance between cello and bass. A breath, and then we're off, quietly at first, but slowly gathering steam and intensity.
Lovens and Taylor have always displayed a special kinship, often sounding like one many-limbed and fidgety beast. How they support and comment on what the other three men play is exciting to witness. Brief pauses and sudden re-groupings happen constantly, with duos and trios arising for a breath or two and then slipping seamlessly back into the general flow. Imagine a train passing by with a completely different interior displayed in each successive window. All the world's music layered in a stack and then the different strata exposed by peeling back layers at random. A cello concerto wedged into a beautiful explosion in slow motion, infectious Latin grooves suddenly popping out for an instant or a spate of push-me-pull-you with life in the balance. The excited vocal exhortations are entirely appropriate.
This is music that really feels like it could change the world, concocted in the moment by five nimble and accomplished gentlemen, entirely amiable to just such a task. Please lend them your ears.
Comments and Feedback: