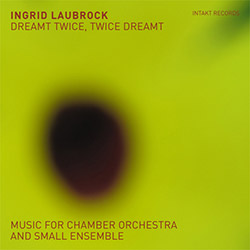 The genesis of Dreamt Twice, Twice Dreamt came when saxophonist & composer Ingrid Laubrock was premiering her composition "Contemporary Chaos Practices" at the 2017 Moers Festival in Germany, and met conductor Susanne Blumenthal who was there with her EOS Chamber Orchestra. The two clicked, and Blumenthal commissioned Laubrock to compose an hour-long programme for the orchestra. Before that, Laubrock first composed small-group versions, using her dream-diaries as inspiration. When writing a large-group piece, she would often zoom in on a detail of the small-group version, to generate a materially different piece. The commission was performed several times before being recorded in December 2019.
Dreamt Twice, Twice Dreamt is a double CD comprising two contrasting versions of the five Laubrock compositions; the first disc features the pieces played by the orchestra, conducted by Blumenthal, with guest soloists including Laubrock herself on saxes, Tom Rainey on drums, Sam Pluta on electronics, Cory Smythe on keyboards and Robert Landfemann on double bass; on the second disc the pieces are played by a trio of Laubrock, Pluta and Smythe plus guests Adam Matlock on accordion, Josh Modney on violin and Zeena Parkins on electric harp. That core trio are the only players to be heard in both versions, with Laubrock describing them as a kind of glue between the small- and large-group recordings.
Laubrock's five compositions are very different to one another, each one standing alone in its own right rather than being part of an overarching suite. The order in which the pieces are played is not vital. In fact, the orchestra opens with a relatively subdued "Dreamt Twice" whereas the small group ends the album with "Twice Dreamt", its more explosive version of the same piece. Therein lies a large part of this album's fascination, the opportunity to compare and contrast the different versions of the pieces. Yes, that core trio is an ever-present centrepiece, and its members are frequently the centre of attention, but the different musicians that they play with and the freedom which Laubrock's compositions afford to the musicians guarantee freshness, variety and kaleidoscopic shifts throughout. As a whole, the album is a testament to Laubrock's burgeoning skills as a composer.
Comments and Feedback: