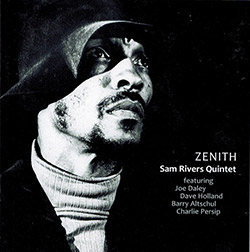 The tremendous creative explosion of music that was detonated by a legendary group of artists in New York City in the 1970s is only now being fully appreciated. And as more documentation of that period becomes available, one begins to get a clearer idea of the importance of that period in the ongoing evolution of jazz and improvised music.
While jazz in the 1980s reached a fork in the road with one group of musicians like the neo-traditionalist young lions spearheaded by Wynton Marsalis going the reactionary road, some musicians chose the other direction and worked out a gargantuan amount of music in the Avant-garde vein. Sam Rivers' music, however, embraced both the traditional and experimental strains and seems to have done what Yogi Berra, the fabled baseball manager once reportedly said, "When you reach a fork in the road, take it!" Rivers had a foot in blues and bebop and in the aesthetics of "New Thing" and his music was evidence of a kind of creative spontaneous combustion of the highest order in which the two approaches were fused, as is evident in this release of a 1977 concert in Berlin. When Rivers was on tour in Europe that year, he performed a number of trio and quartet dates but also this one quintet date, which has been released on the NoBusiness label, as volume 2 of the "Sam Rivers Archive Project."
The quintet has Rivers on tenor and soprano saxes, flute and briefly on piano, drummers Barry Altschul and Charlie Persip, and the low register duo of Dave Holland on bass and cello and Joe Daley on tuba and euphonium. The blend of sound is blissful in the one long piece (53:19) titled "Universal Message." Like a lot of the free jazz happening at the time, the music here is animated by an optimistic, transcendental vibe, and the play of imaginative interactions among the quintet members is uplifting and unequivocal. The group dynamic is marked by a propulsive energy that sweeps along with inventive sax, flute, low brass and low string lines, with the euphoric swirl of drums stoking the fire.
One is thankful for a chance to hear this music and for being reminded, as Berra's quote (apocryphal or not) implies, that it is possible to be both traditional and iconoclastic at the same time and that the dividing line between the two in musical forces like Sam Rivers is very thin, indeed.
Comments and Feedback: