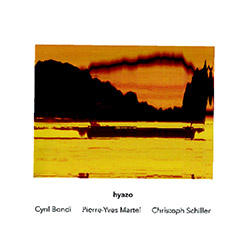 Distilling the extended timbres of instruments from the so-called classical period of notated music and eras before it into performances of their own original compositions, the conception of the members of this European-Canadian trio are firmly post-modern. But the juddering sweep of the program confirms its elevated musical rather than mere textbook POMO definition. Consisting of German Christoph Schiller, who plays spinet and preparations; Canadian Pierre-Yves Martel's viola da gamba, pitch pipes and harmonica; and Swiss Cyril Bondi using Indian harmonium, pitch pipes and harmonica, the three, who work on both the European and North American continents, express equal allegiances to improvised, aleatoric and even folkloric sounds.
Throughout the two Schiller compositions and one by Bondi which make up the disc the group members also bring out unexpected textures as they play. Spinet notes resonate as if being plucked on guitar strings; pitch pipes or harmonica tones shrill as if they were from saxophone reeds; the viola da gamba often takes on rhythmic rumbles that would come from a double bass in a jazz combo; and the disparate parts are held together with tremolo continuum from the harmonium. While Baroque and other eras sonic definitions of the instruments' expected tones are sometimes heard, they're logically added to the unanticipated tones and harmonies created uniquely by these players. With a sprinkling of silences and echoes added to the performances, the strategy of subtle and stately theme evolution usually involves layering sounds. With tones stacked from high to low pitches, and all audible when needed, gentler themes often intersect with usually unbroken minimalist textures. Yet since alongside harmonized sequences space exists for individual's buzzes, plinks or vibrations, the tracks retain a certain spikiness, preventing them from becoming overly hypnotic.
Dedicating the disc to compositions and playing that encompasses excursions into varied colors, pitches and speeds, the band members have created a session that is notable for is originality while also expressing subtle deference to other musical forms.
Comments and Feedback: